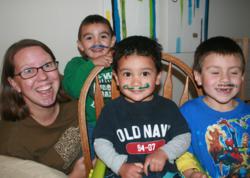 The LGBT community is a tremendous source of stable, loving homes for foster kids.
Los Angeles, CA (PRWEB) April 29, 2013
On Saturday, May 11, 2013, lesbian mothers from across Los Angeles County will come together to share their parenting experiences with prospective foster and adoptive mothers. The brunch, which takes place at the Pacific Design Center in West Hollywood, is being organized by a consortium of child welfare organizations including the Los Angeles County Department of Children and Family Services (DCFS), Southern California Foster Family and Adoption Agency (SCFFAA), and Penny Lane Centers.
The gathering is part of a larger national recruitment campaign coordinated by RaiseAChild.US, a non-profit organization with the mission to encourage members of the LGBT community to build their families through fostering and adoption.
The RaiseAChild.US Parent Advocate program, the first of its kind in the nation, is already working with more than 800 LGBT prospective parents it has recruited in its initial 18 months. It partners with social workers focused on finding safe, loving and permanent homes for children in the foster care system.
"The LGBT community is a tremendous source of stable, loving homes for foster kids," says Sari Grant, Recruitment Administrator for DCFS. "Many of these children will become available for adoption. We're very happy to be part of this recruitment effort that encourages the LGBT community to consider fostering and adopting as an excellent avenue for creating or expanding their family."
According to the U.S. Department of Health & Human Services' Administration for Children & Families, there are over 400,000 children in the foster care system. One quarter of these children are available for adoption. Certified families are in short supply and many children will "age out" of the system before finding permanent families.
RaiseAChild.US works closely with the Human Rights Campaign Foundation's "All Children – All Families" (ACAF) initiative, which provides professional training and technical assistance to foster care and adoption agencies that want to welcome and support LGBT foster and adoptive parents. To date, ACAF includes nearly 70 participating agencies across the country and has awarded 30 seals of recognition.
According to 2010 U.S. Census data, children are being raised in over one million LGBT-headed households. While LGBT parents may encounter resistance from child welfare workers in some communities across the U.S., California law provides children who are in need of loving parents equal access to foster and adoptive families, regardless of the sexual orientation of the parents.