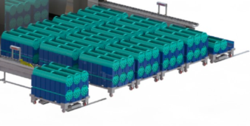 Proper buffering helps to maintain high levels of throughput.
White Pigeon, MI (PRWEB) April 30, 2013
In the global high pressure processing industry, there are two dominant volume outputs Avure's 350L and Hiperbaric's 420L. In 2013, there will be another volume option that will provide 500L of output, in the same price, operational size, and operational functionality category as Avure's 350L and Hiperbaric's 420L. The volume outputs of each vessel category are as follows (assumption = 70% vessel fill capacity per cycle):
350L 196,000lbs / week 539lbs / cycle
420L 235,000lbs / week 647lbs / cycle
500L 279,000lbs / week 770lbs / cycle
HPP is a new and burgeoning industry, where the early adopters have jumped to adopt the technology. It can be found that with new technologies, the brightest and best implement first, but that fine-tuning and honing processes develops over time. All Natural Freshness knows that to stay ahead of the curve, you have to move fast, and in moving fast an HPP Machine can easily be operating at 70% throughput. 70% throughput leaves significant opportunity cost (up to $30,000 per month). It can also create a production bottleneck, where HPP cannot keep up with production. Finally, if operating in a multi-machine environment, when multiple machines are operating at 70% or less, this gap in productivity can create an artificial need to purchase a new machine at a cost of up to $3MIL.
Opportunity Cost - At 70% throughput:
350L 58,8000lbs / week 162lbs / cycle - Lost
420L 70,500lbs / week 194lbs / cycle - Lost
500L 83,700lbs / week 231lbs / cycle - Lost
The number one reason machine throughput drops below maximum efficiency is that the vessel is ready to accept product, but product is not immediately loaded into the vessel. Reasons that product is not immediately loaded can include:

Production is backed up and there is not enough product to load.
Production is down and there is no product to load.
Human operators are not operating efficiently.
Inadequate material handling solution.
All Natural Freshness' goal is to bring HPP to the masses by providing solutions that allow companies to have "the lowest cost per pound with the fewest touches possible." To make that possible ANF has developed a solution that offers customer specific levels of automation versus manual operation and, the key to the whole puzzle, a stackable, moveable, shipping ready buffering system. The minimum recommended amount of product buffer in a high volume HPP operation is 1 – shift. By buffering an entire shift of product, ready for High Pressure Processing, machine owners give themselves the flexibility to endure any of the issues that can cause diminished throughput. "Proper buffering helps to maintain high levels of throughput, up to 98%, allowing the user to operate at the lowest cost per pound possible day in and day out," states Gerald Ludwick, President of All Natural Freshness.