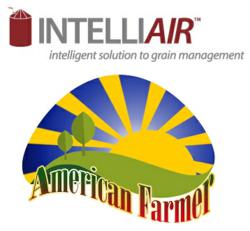 Archie, MO (PRWEB) April 30, 2013
IntelliAir announced today they will be featured in an upcoming episode of American Farmer airing later this year on RFD-TV.
In this episode, American Farmer will explore IntelliAir, a company that takes the guesswork out of grain storage management. Audiences will be educated on the company's IntelliCloud software, which enables farmers to monitor their facilities remotely. In addition, viewers will learn about IntelliAir University, a monthly educational workshop run by Dr. John Lawrence, which is offered to clients wanting to learn more about using the software and its capabilities.
"IntelliAir looks forward to partnering with American Farmer," said Roger Tinoco, Marketing Director for IntelliAir. "Bin Manager provides our customers with complete grain management services. In addition, our IntelliCloud system allows you to stay up to date on temperature and moisture levels inside your grain bin, as well as send you alerts and updates form from anywhere in the world via text or email. We are excited to give viewers an inside look at our products and services on the American Farmer show, and for them to see how this amazing technology is revolutionizing the industry."
"IntelliAir is a proven solution to grain storage management," said Charles Cowan, producer for American Farmer. "With this software, farmers have more freedom to do the things they otherwise couldn't do when managing their farm; this means more time for family and friends, without having to worry about the farm."
About IntelliAir:
IntelliAir brings quality and value to the customer by listening and making products and services that fit each individual's specific needs. The voice of the customer is responsible for everything IntelliAir has done in the past and will continue to do in the future.
For more information, visit http://www.intelliair.com or call 855-293-5607.
About American Farmer:
American Farmer is a breakthrough program on a mission to showcase the latest advancements in agriculture and farming. From seed to harvest, livestock and more, our producers have traveled the country covering the people, places and issues impacting all areas of farm country.
American Farmer airs Tuesdays at 8:30am EST on RFD-TV as well as Saturdays at 1:30pm and Midnight EST on RURAL-TV.
For more information visit http://www.americanfarmertv.com or call (866) 496-4065.
Media Contact:
Charlie Cowan, Producer
(866) 496-4065 x 875
charlie(at)americanfarmertv(dot)com