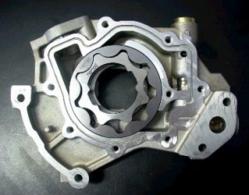 Regular oil pump maintenance helps prevent the engine from getting damaged and allows it to generate power with ease.
Chicago, IL (PRWEB) April 29, 2013
As the celebration of Car Care Month continues, Car Finder Service publishes Car Care Tip #29: "How to Install An Oil Pump." This is the 29th installment in the 2013 Car Care Tips program which aims to help car consumers determine the proper way to install a new oil pump on the vehicles they own.
Car Care Tip #29 stresses that the car's oil pump requires regular maintenance since this plays a vital role in lubricating the engine while running. In addition to that, the pump's failure to perform its function would surely damage the engine. Tip #29 enumerates the basic steps involved in removing and installing an oil pump.
The first step is to prepare the necessary tools. After preparing the needed tools, Tip #29 recommends that the car should be parked on a ramp or have its front raised using a floor jack to allow the consumer to gain access to its underside area.
After doing such, the article hints that the consumer should start removing the car's oil as well as the oil pan. As soon as both of these are removed, Tip #29 shows how to remove the old oil pump and replace it with a new one.
Car Care Tip # 29 also warns consumers that they should tightly replace all of the components such as the oil drain and the oil pan that were removed so as to avoid oil leakage. Finally, the article directs the consumers to install a new oil filter and pour new oil into the vehicle after replacing its oil pump.
In celebration of Car Care Month, the 2013 Car Care Tips Program is designed to help consumers of popular family vehicle manufacturers - such as Toyota and Ford - take proper care of their vehicles by publishing one new article each day.
Check Car Finder Service each day in April to learn a new money-saving maintenance lesson. Consumers will gain tips on basic mechanics such as replacing brake pads, spark plugs, and worn discs. They will learn new ways to clean their car and keep the vehicle's exterior and interior appearance in good condition. They'll even learn which models to choose to avoid extra maintenance efforts.
http://CarFinderService.com is an automotive website committed to helping car buyers search for the best brands of new and used car models. The service provides the most up-to-date local pricing, specs, and feature information for all popular car models sold in North America.
Car Finder Service also helps consumers with the latest vehicle financing and insurance opportunities at competitive rates in partnership with an extended network of car dealers and vehicle financing and insurance providers throughout the US.