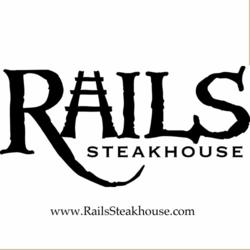 We were blown away by the designs
Montville, NJ (PRWEB) April 30, 2013
When looking for a logo design that captured the look and feel of their new restaurant, the owners of Rails thought 'why work with just one artist when we can work with a ton of talent?' Setting their sights on the crowdsourcing site Talenthouse—which has been used by the likes of U2, Rihanna and Red Bull—they invited emerging artists to submit concepts for the logo design of the multi-tiered steakhouse set to open later this year. The owners weren't disappointed.
"We were blown away by the designs," says Ed Olimpio, VP of Marketing. "Choosing the winner among all the great entries we got wasn't easy. But the entry from Alfredo Guijarro really spoke to us. Its conceptual, clean design best represents what Rails is all about." Other finalists included Sheila Cicchi and San Dra. (Check out all three designs here.) The winning artist, Guijarro is based in Madrin Spain and has been a graphic artist for more than 20 years.
Rails, the centerpiece of a new development called Towaco Crossing in Montville, NJ, will feature seasonal cooking, a vast wine selection and state of the art design. Sprawling timber, stonework and fire and water features are all part of the industrial chic interior design that will include a main dinning room, three lounges, alfresco dining, a steak-aging room, a speakeasy, a wine cellar, private dining rooms, a catwalk and a suspended loft bar.
"We've attempted to create an environment which evokes emotional sensationsthat add to the upscale dining experience," says Architect Tony Garrett of Bilow Garrett Group. "It's all about quality—from the building materials to the finishes to the open Atrium atmosphere—every inch of this restaurant has been built with the diner in mind."
The same is true of menu development, says restaurant consultants Paul Carroll and Joe Manente. Locally sourced, seasonal ingredients will influence the seasonal menu. "We want Rails customers to know they can count on finding their favorite dish, but that there will always be wonderful surprises on the menu," says Manente. "Unequaled fare, the attention of a skilled staff within a striking setting—that's what makes a great dining experience. And that's what Rails promises," says Carroll.
The opening of Rails, along side the retail shops and residences that comprise Towaco Crossing, is one of the most anticipated events of the year in the New Jersey township. "I've never seen so much public endorsement for any private project in town before," former Montville Mayor Jim Sandham said at the restaurant's groundbreaking.
Despite local eagerness for the grand opening, Rails owners aren't compromising their detailed timeline. "The plans are pretty intricate and can't be rushed," says Garrett.