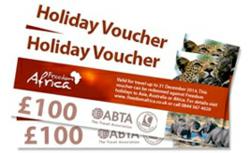 (PRWEB UK) 30 April 2013
African holiday specialists – Freedom Africa have launched exclusive traveller gift vouchers providing the perfect present that keeps on giving in terms of unforgettable experiences on the continent, whether travellers crave a South African adventure starting in Cape Town or Zambia holidays providing the magic and awe of Victoria Falls.
Available in denominations as small as £50 right up to £5000, Freedom Africa gift vouchers can satisfy most requirements and are valid for three years from the date of issue meaning for those lucky enough to receive one, they can truly take enough time to carefully ponder where they fancy travelling to in Freedom Africa's fulfilling itinerary.
With Botswana, Kenya, Mauritius, Mozambique, Namibia, Tanzania, South Africa and Zambia all part of Freedom Africa's 2013 operations, the possibilities are seemingly endless and once those who have received a voucher decide on their ideal destination, Freedom Africa's ABTA and ATOL protection ensures peace of mind in terms of safe and secure travel arrangement.
Not only this, but Freedom Africa places the holidaymaker at the centre of their operations and travel can be tailored to the tourists exact requirements with gift vouchers valid for holidays to Africa with stopovers too should individuals choose to take in the beauty of another destination prior to their main retreat.
Freedom Africa gift vouchers are versatile in respect of the fact that they can be utilised in so many different ways. Offering a wide plethora of choice, they are the ultimate present in regards to opening up a range of possibilities, rather than a single gift which is either unfavourable or restricting.
Victoria Falls, the Serengeti National Park, Cape Town, Zanzibar and Mount Kilimanjaro are just some of the destinations that can be visited upon receipt of a voucher and for those giving the gift; you are likely to endear yourself to your friends markedly.
Selecting a gift voucher with Freedom Africa is just the start however. By choosing your holiday with the company, you are offered the freedom of choice, to explore a new nation at your own leisure, basing yourself in one location or alternatively journeying around and taking in as many retreats as possible.
The choice is entirely down to you. To obtain your Freedom Africa traveller gift vouchers, simply call 08445674020 and fulfil those holiday dreams for real. Whether it be an African safari, Mombasa marine break or the Garden Route in South Africa, Freedom Africa gift vouchers are valid for all these destinations and more.