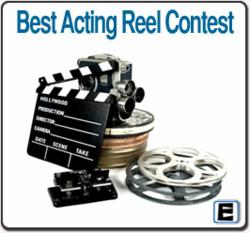 We were pleasantly surprised, not to mention overwhelmed, by the number of submissions and absolute talent that our members showcased in their entries
New York, NY (PRWEB) April 30, 2013
Video clips are prolific, dominating homepages, social media and electronic inboxes everywhere. So much so, that video is also seeping into the casting process in the entertainment industry. It's no longer enough to have a set of fab headshots; these days actors are also expected to have a cache of killer reels that bring their talents to life. To spotlight this growing trend and to encourage actors to embrace the newfound importance of video, eTalentShowcase.com, an online resource for emerging talent, kicked off a contest to find the most impressive acting reels out there. The contest, which launched April 10th, asked actors to submit one- to three-minute long videos that capture their best work.
Today, the talent site announced it has narrowed the contestants to 10 finalists. Among those now vying for the top spot are Michael Guy Allen, Cate Carson, Jack E. Curenton, Marc Livingood, Bettina Mangiaracina, Johnny Rock, Kelsey Lynn Stokes, Toni Vitale, Linda Wartenweiler and Amy West. To view a finalists' reel, go to our Finalists Page.
"We were pleasantly surprised, not to mention overwhelmed, by the number of submissions and absolute talent that our members showcased in their entries," says Edward Olimpio, vice president of marketing for the site. "We knew this contest would give members the opportunity to pull together their best work and put it out there for casting and booking agents to see. eTalentShowcase.com is designed to show off great video and we wanted our members to really take advantage of this."
Now that the finalists have been selected, the voting opens to the fans, who can view the reels and vote for the actor who most impresses. To vote in the contest, go to eTalentShowcase.com's Facebook page. Hurry, voting ends May 20th. The winning reel will be featured on the site's Youtube Channel as the featured video for one month, and will be featured on the site's home page for a week. Additionally, eTalentShowcase.com will share and promote the winning reel across all social media platforms, as well as announce the winner in a National Press Release.
"We're excited to see who comes out on top," says Olimpio. I've seen all the reels, some multiple times and picking just one won't be easy. There's a lot of talent here."
About eTalentShowcase.com
eTalentShowcase.com is a social media site that provides artists and entertainment industry professionals with powerful, intuitive tools to connect, promote and prosper online. The site offers job listings, free profiles, original content, contests and a base of active, engaged fans. eTalentShowcase, Where Talent Gets Discovered.