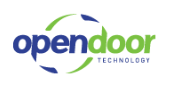 Microsoft partnership has allowed us to grow our business quite significantly over the years and we appreciate the recognition of this achievement that comes from the gold certification
(PRWEB) April 30, 2013
As a Gold ERP Certified Microsoft Partner, Open Door Technology proudly serves businesses all over Canada and the United States delivering tailored software solutions by industry. Focusing exclusively on Microsoft Dynamics NAV products and services, Open Door Technology is committed to the success of their clients.
Open Door Technology sets itself apart from the competition with Microsoft Partner Network Gold ERP Certification since 2010 when the new program was implemented. "The stringent requirements to earn Gold ERP certification are designed to develop reliable and experienced partners," said Michael Strand, business relationship manager for Microsoft. "We expect only the top two percent of our 640,000 Microsoft Partner Network members to earn this prominent status." Clients can expect superior commitment and services from the team at Open Door Technology that ranks in the top two percent of the entire Microsoft Partner Network.
Businesses who utilize the expertise of Open Door Technology can expect solutions designed specific to their industry with services including consulting, software evaluation, tailoring and selection, development, implementation, training and ongoing support services. Open Door Technology delivers services for every industry, including but not limited to, Oilfield Service, Wholesale Distribution, Rental Management, Manufacturing, Non-Profits, and Financial Institutions.
Realizing that each business is unique, Open Door Technology brings 21 years of training and expertise to each client and diligently works to configure and implement Microsoft Dynamics NAV systems to help them run their operations as efficiently as possible. Every software solution is designed specifically for each distinct customer by the Gold ERP Certified experts of Open Door Technology.
"Open Door Technology is proud to be a member of the Microsoft community of partners. Microsoft partnership has allowed us to grow our business quite significantly over the years and we appreciate the recognition of this achievement that comes from the gold certification" says Malcolm Roach, President of Open Door Technology. Open Door Technology has grown over the last 21 years, from Malcolm's dream, into a company with two offices and over 30 talented employees serving both the United States and Canada.
Call on Open Door Technology today, wish them a Happy 21st Anniversary, and discover how they can provide the solutions you need to benefit your growing business
Bio: Visit http://www.opendoor.ca today for more information regarding why Open Door is considered one of the top providers of dynamics NAV Canada. As one of the premier CRM software companies, Open Door continues to provide its customers with unparalleled products and services.