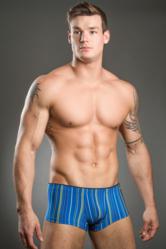 There's something very cheerful about stripy underpants
(PRWEB UK) 30 April 2013
Bold Breton, sweet candy, smart humbug and stunning deckchair stripes, vertical, horizontal and sweeping in sultry curves around the body - stripes have long been a favourite theme among men's underwear designers. But this year they have come into their own at Deadgoodundies as catwalk designers indulge the trend in all kinds of clothing for the beach, street and smart occasions (http://www.fashionbeans.com/2013/mens-ss13-fashion-trend-stripes/).
Partner in Deadgoodundies.com and experienced fashion writer Jane Garner says men who love the look of stripes but don't want them to be too high profile in their wardrobe can enjoy stripy undies instead.
"There's something very cheerful about stripy underpants. Of course they can be very smart, especially in businesslike pinstripes or finer striped options. We do have understated tones, but like the catwalk models, our high profile brands enjoy mixing and clashing colours in bright combinations," she says.
"Our South American brands in particular have a special flair when it comes to working stripes to the max. Joe Snyder's stripes are always our top seller, closely followed by Mundo Unico. Another collection that always features stripy looks - from the subtlest 'self stripes' where bands are created from different tones of the same colour to daring multicoloured hoops - is Bruno Banani. Their Anti Stress collection is stocked year round at Deadgoodundies in black and white, with seasonal colours added each spring and autumn."
Jane's advice to men tempted by the stripe sensation is to pick the scale of their canvas to create the effect they want. A thong with a striped pouch can be as eye catching as a cycle-length short smartly dressed with stripes. And as Jane adds: "While the fashion world has us believe that horizontal stripes can be unflattering, on men's underwear the flow of stripes around the contours of the lower body can be very attractive, even enhancing!"
Company Information
Deadgoodundies is an online only retailer stocking the best in designer men's underwear and swimwear from all over the world including: (in alphabetical order) Big Boys, Body Art, Bruno Banani, Bum-Chums, Clever Moda, Doreanse, Ergowear, Gigo, Gregg Homme, HOM, James Tudor, Jockey, Joe Snyder, MaleBasics, MANstore, Mey Bodywear, Mundo Unico, Nils Bohner, Obviously For Men, Olaf Benz, Pikante, PUMA, Skiny, Sloggi, Solar TanThru and Zoggs. DGU stocks everything from thongs and strings to briefs, hipsters and shorts as well as selected loungewear, socks, T-shirts and more from their best selling brands.
DGU are incredibly media friendly and always have high res images on hand for fashion pages and samples for photo shoots as well as expert comment and market insight from partners Adam and Jane.
For more information contact DGU PR Jane on 01743 271615 (international +44 1743 271615) or email pr(at)deadgoodundies(dot)com