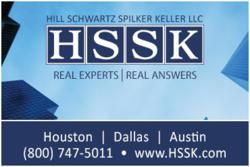 We are looking forward to welcoming all of our clients to this beautiful facility. - Mike Hill, Jr.
Houston, Tx (PRWEB) April 30, 2013
Hill Schwartz Spilker Keller (HSSK) is proud to announce that they have moved their office from San Felipe Plaza to their new location at 952 Echo Lane Suite 200 in Hedwig Village. HSSK is a proven leader in the business valuation, litigation consultation & financial forensics fields.
After spending nine and a half years at the San Felipe Plaza, it was time for HSSK's Houston office to make a move. As their most recent lease at the San Felipe Plaza was coming to a close, they jumped on the opportunity to establish their office in a new area. On March 8th of this year, they relocated to the flourishing Hedwig Village, south of Interstate 10. Several members of the HSSK team live in the Hedwig Village area and their input helped the company decide to make the move to this prestigious address. In order to continue providing the best quality services to their clients and not interrupting their activity, the move was made quickly over the course of a single weekend.
Surrounded by park-like grounds, the 7,700 square feet new offices offer unique features such as spacious marbled and wood paneled lobbies, a marbled staircase and a stained glass ceiling atrium. The space also now provides clients with easier parking. The location of HSSK's new office still being central and near the Freeway, allows for easy access from anywhere in the Houston area.
This smart move will allow HSSK's Houston office to facilitate the continuous growth of the company. It will also enable their team of 16 employees to keep delivering the high-quality expert consultation and valuation services their clients have come to expect.
"We are very pleased with our new office at Echo Lane! The space is optimized for a better client experience," said Mike Hill, Jr. "It is exciting to see HSSK moving to a new setting after spending nearly a decade at the San Felipe Plaza. We are looking forward to welcoming all of our clients to this beautiful facility." The HSSK team has settled in and are now well established in their new offices.
For more information on HSSK's business valuation, litigation consulting, or financial forensics services, visit their website: hssk.com.
About Hill Schwartz Spilker Keller LLC (HSSK)
Hill Schwartz Spilker Keller LLC (HSSK) is a professional services firm devoted to Business Valuation, Litigation Consultation and Financial Forensics. The principals have been serving the corporate, legal and professional communities for over thirty years. HSSK assists clients in quantifying and articulating value for financial reporting, taxation, transaction, and corporate planning purposes. We also work with clients involved in filed and pending litigation and disputes by providing valuation services, financial forensics, financial damage determination, and bankruptcy related services, including serving as financial advisors to parties, as trustees, and as examiners.