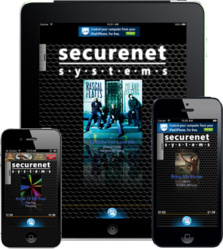 The iOS app's new features and enhancements are designed to better interact with the listener, extend dwell time and to help maximize online ad revenue streams.
Deerfield Beach, FL (PRWEB) April 30, 2013
Securenet Systems, Inc., an international radio streaming services provider headquartered in Deerfield Beach, Florida USA, announced the release and roll-out of their fifth-generation iOS app for radio stations and their listeners. The new version is free to all customers and has additional advanced features, a user-friendly interface as well as a sleeker layout. Similar to the recently-released Android app, it provides a station with continuity and consistency across all platforms, and is optimized for phones and tablets alike, with all features easily accessible by a new slide-out menu.
In another leading innovation by Securenet Systems, most of the mobile app features can be customized via the radio station manager's Control Panel, which is a first for single-station listener apps - having the ability to dynamically change the configuration and/or availability of options. As such, stations can update their station logo, station info and skins, among others - also another first, making it easy to edit information and programming on the fly - all done via an intuitive and easy to navigate web interface. Any activated/deactivated features are effective on both iPhone and Android versions of the app simultaneously.
Sound quality has never been better, utilizing the latest HE-AACv2 codec, giving listeners the best-quality sounding streams available by mobile anywhere on the planet. Among the new features controllable by the station manager are different backgrounds, a sleep timer with sound beds for sleep, alarm clock, social networking pages, mosquito zapper, app-sharing and many others. All of the other basic features like album art, playlists, song information and others have been enhanced as well.
The iOS app's new features and enhancements are designed to better interact with the listener, extend dwell time and to help maximize online ad revenue streams. It also provides the latest social media tools and features that allow a station to interact more closely with its listeners. See examples of the app and an overview of its features at http://rss.securenetsystems.net/index.cfm?page=features_-_free_iPhone_app.
Located in Deerfield Beach, FL, Securenet Systems serves over 2,000 radio stations in over 40 countries and every US state, offering a range of internet-centric services to the radio industry, including high-speed streaming in HE-AACv2, free audio/video ad-insertion as well as display banner serving, royalty accounting, listener metrics, mobile listener apps, ADNet™ revenue sharing and much more. Securenet operates its own datacenters on both the east and west coasts of the United States as well a datacenter in Roubaix, France. An Affiliate Reseller Program is available worldwide for companies and individuals interested in partnering with Securenet to refer business.
For more information on Securenet Systems' latest radio streaming features, please visit http://www.radiostreamingservices.com, call toll-free (866) 568-9402 or email info(at)securenetsystems(dot)net.