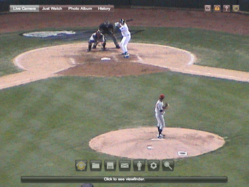 Winston-Salem, NC (PRWEB) April 30, 2013
TrueLook's live webcam will return for the 2013 Winston-Salem Dash baseball season. The webcam lets the public view live images from the BB&T Ballpark in Winston-Salem, NC. The camera is currently live on the Dash webcam website.
With TrueLook's webcam, fans can view live images of Dash baseball games from anywhere. The webcam allows an unlimited number of simultaneous users to aim and zoom around the ballpark. The camera looks down on players and spectators from the scoreboard. With a simple click and drag, the optical zoom on the camera can zoom in to capture individual players.
Aside from aiming and zooming, the camera interface provides a number of interactive features. Fans can save images from the webcam, either locally to their computers or to the webcam's dedicated photo album. Webcam images can also be shared to Facebook or Twitter with a built-in sharing tool. A weather widget even lets fans check the weather conditions.
Check the Dash's season schedule for game times. The webcam will continue to be accessible throughout the 2013 season, which ends in September.
About TrueLook
TrueLook is the world's premier interactive webcam system, specializing in construction time-lapse cameras, resort webcams, and live event webcams. For over 15 years, TrueLook has been deploying cameras on every continent of the globe - including the NASA camera on the South Pole. This world wide network of IP-based cameras has captured over 2.2 billion media clips, delivering them to over 100 million users with a 99.999% service up-time. TrueLook has also been a pioneer in IP camera technology, having built the world's first pan/tilt/zoom (PTZ) network camera.