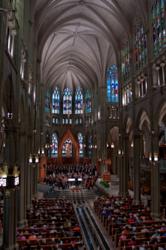 "Experiencing Mozart's Vespers music within its original prayer service context makes this program unique and special, coincidentally on the National Day of Prayer." — James Cassidy, KSO Music Director
Cincinnati, OH and Covington, KY (PRWEB) April 30, 2013
Thursday May 2, 2013 is the National Day of Prayer. To mark the occasion, the Kentucky Symphony Orchestra has planned a special concert of reflection and introspection as it performs the music of Mozart in two area Cathedrals. The KSO's 21st season finale offers Wolfgang Amadeus Mozart's music in two unique contexts — Vespers (prayer service) and selections heard in the 1984 film Amadeus.
Vespers, is nominally celebrated today in the late afternoon to early evening as a brief prayer service, incorporating several Psalms and liturgy that are chanted or sung. Mozart's Vesperae solennes de confessore will be presented in its quasi-original 1780 prayer service context with celebrant Fr. Jon-Paul Bevak presiding at St. Peter in Chains Cathedral. The presentation at the Cathedral Basilica in Covington will consist of music only without the service.
The KSO Chorale and the Voices of the Commonwealth together with vocal soloists from the Choir of St. Peter in Chains Cathedral will join the KSO to perform this setting of five Psalms and the Magnificat.
In 1984 Milos Forman's cinematic adaption of the Peter Schaffer's stage play Amadeus, catapulted Mozart's music into universal awareness and favor. To frame the Vespers service/opus, the KSO will perform the Symphony No. 25 in g minor, which opens the film, and the movie's closing scene music — "Lacrimosa" from the Requiem and the "Romanze" from Piano Concerto No. 20 in d minor with Steven Hinnenkamp as soloist.
"We are most appreciative to have Fr. Jon-Paul Bevak in residence at Old St. Mary's, and St. Peter in Chains Cathedral Music Director, Anthony DiCello, assisting the KSO in the exploration and understanding of the original setting and meaning of the Vespers service, for which Mozart wrote such inspired music. In the end both participants and audience will learn about and find the spirit through such collaborative efforts," says James R. Cassidy, KSO Music Director. The total liturgical content outside of Mozart's music represents about 10 minutes (St. Peter in Chains presentation only).
Join the KSO and Chorale, with Voices of the Commonwealth, pianist Steven Hinnenkamp and Father Jon-Paul Bevak for Amadeus at Vespers 7:30 p.m., Thursday, May 2 at St. Peter in Chains Cathedral (Plum & 8th Street Cincinnati, OH). Tickets for this special program are $19, $27, $35 (children 6-18 are 50% off) and are available on-line, by phone or at the door.
Friday's May 3, 7:30 p.m. performance at St. Mary's Cathedral Basilica of the Assumption is a concert only without liturgy or celebrant (Madison & 12th Streets) — pre-sale on-line or phone purchases only. For more information and tickets call the KSO at (859) 431-6216 or visit http://www.kyso.org
About the KSO:
The Kentucky Symphony Orchestra takes the "phony" out of symphony while reaching 31,000 people annually through live thematic concerts that culturally enrich, educate and entertain the residents of Northern Kentucky and Greater Cincinnati. Current Music Director, James R. Cassidy founded the group in 1992 with an ambitious purpose – to create a new, broader audience for symphonic music. Through unique and innovative presentations, classical and other genres of music, the KSO has made concerts attractive, accessible and affordable without compromising quality and integrity. The KSO, with offices in Newport, KY, can be found throughout Northern Kentucky (the Commonwealth's second largest population center) performing three series of concerts in churches, schools and parks. For more information visit http://www.kyso.org