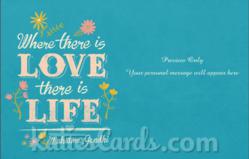 Whilst it's nerve-wracking to change direction so significantly, it's important to explore current trends so that Katie's Cards remains fresh, relevant and appealing to a wide customer base.
(PRWEB) April 30, 2013
Premium ecard company, Katie's Cards, has announced that it has created a new category of 'Wise Words' ecards which are available on the company's website for the first time this week. The ecards in this category are different from anything that Katie's Cards has created before and thus mark the start of something new for the company.
The ecards in this 'wise words' collection will each feature a quotation which will be written in a font that complements the quotation's meaning. From the romantic musings of Aristotle, to the wise philosophies of Gandhi and the quirky sayings of Mark Twain, the ecards in this category are perfect to send to a friend who is need of a little guidance or inspiration. Currently, the collection includes just two ecards which feature quotes from Gandhi and Aristotle, both of which follow a romantic theme. However, the company plans to continue to add to the collection in the coming months and aims to include a variety of quotations, some of which are reflective and profound, and others that are more light-hearted.
The style of the illustration used to create these ecards is very different from anything the company has attempted before. Therefore, whether or not the new style will be popular with the Katie's Cards membership base remains to be seen. Currently, the majority of ecards on the company's website are animated and, whilst some are illustrated in a subtle artistic style, others are more quirky and cartoon-like. Additionally, most of the existing ecards are set to fun, festive music. The 'wise words' ecards, on the other hand, are not set to music, thus providing a moment of contemplation rather than entertainment.
There are multiple reasons why Katie's Cards has decided to experiment with this new range of ecards. Chiefly, the company hopes that by producing these quotation ecards, ranging from the humourous to the philosophical, it can take advantage of the current phenomenon of witty quotation cards sweeping the web. As Katie's Cards C.E.O. Katie Davies explains:
"We are currently seeing a high volume of images, similar to the ones in our 'wise words' section, being shared on Facebook and Pinterest. These images have the potential to go viral as more and more people share and 're-pin' them. We would be delighted if the same thing happened with these new Katie's Cards ecards. Whilst it's nerve-wracking to change direction so significantly, we feel that it is important to explore current trends if the business is to stay fresh, relevant and if it is to resonate with a diverse customer base."
The new category is, therefore, part of the company's broader social media strategy. For companies that provide a visual service, social media tools that rely on the sharing of images, such as Pinterest, provide an exciting new territory within which companies can gain exposure. Katie's Cards hopes that the ecards within this category will not only be popular with their customers but also that they will prove to be popular more widely on the internet.
These 'wise words' ecards join a wide variety of categories on the Katie's Cards website. The categories range from the more traditional Christmas ecards, birthday ecards and Mother's Day ecards to ecards for a diverse range of cultural festivals and occasions. Since the 'wise words' ecards do not have any particular cultural or religious resonance, the company's CEO hopes that they will be popular with Katie's Cards customers around the world at all times of the year.