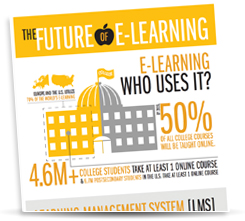 "E-learning is transforming education and training as we know it today."
Alliance, OH (PRWEB) April 30, 2013
Unique E-Learning Infographic now available.
Everything you need to know about e-learning in unique infographic
A unique new infographic is now available from Alliance-based Amvonet. The infographic brilliantly showcases The Future of E-Learning. The infographic briefly illustrates:

Geographic breakdown of E-Learning usage
Demographics of E-Learning users
Downfalls of Learning Management Systems (LMS)
A comparison of LMS and Learning Content Management Systems (LCMS)
Global E-Learning Expenditures
The infographic can be downloaded at: http://www.amvonet.com/support/infographics/the-future-of-e-learning/
Amvonet President Vadim Eelen comments, "We are excited to be part of the growing education market that is fueled by the growth of e-Learning worldwide. E-learning is transforming education and training as we know it today and technology like AMVONET enables e-Learning to thrive in many learning environments. We are committed to providing innovative technology at a low total cost of ownership."
AMVONET is an active participant in the e-learning market, delivering services to university and corporate clients in addition to selling innovative products such as its fully-integrated software suite, the AMVONET Learning Content Management System.
AMVONET Alliance, Ohio-based AMVONET has created a comprehensive, integrated software suite consisting of an e-learning management system, a live web-conferencing and virtual classroom solution, and a content-authoring application. In addition to the K-12 and higher education markets, AMVONET offers distance-learning business and healthcare solutions for continuing education, corporate training, online collaboration and interactive recordings. AMVONET's online system provides educators and trainers with everything they need to create, manage and share multimedia course content. For more information, visit http://www.amvonet.com.