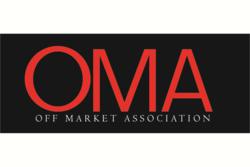 The Off Market Association is so sure of its benefits and worth that it is offering a free 15 day trial period for membership. "We have so much to offer to professionals," says Managing Director Rayaan Arif, "and we want to share these exciting tools and
San Francisco, CA (PRWEB) April 30, 2013
The Off Market Association is so sure of its benefits and worth that it is offering a free 15 day trial period for membership. "We have so much to offer to professionals," says Managing Director Rayaan Arif, "and we want to share these exciting tools and avenues to income."
The Off Market Association (OMA) is for commercial real estate and finance professionals, and offers multiple avenues to make fees.
The two main affiliate of OMA are Genesis Capital and Sunovis Financial. Through Genesis, professionals source and sell commercial property off market to a very large database of cash buyers; Genesis also works with banks to source notes and professionals can learn how to do this. Through Sunovis Financial, members can refer clients for commercial real estate loans, SBA (small business) loans and Micro Loans (fast capital for small business owners). In addition, members can offer SBA services to community banks to allow the banks stability and growth.
Members are offered more than $50,000 worth of online university courses to remain competitive and learn new skills. An online CRM is offered as part of membership, a powerful way to access your information anywhere, anytime.
Interested professionals can join a webinar to learn more.
"It's an exciting time to become part of the OMA," says Arif. "Our motto: where Off Market is the New Market!"