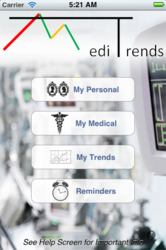 Empowering Individuals to Better Health!
Jackson, NJ (PRWEB) April 30, 2013
Imagine an App that may someday save a life as well as empowering individuals to identify a person's health risk before it occurs. The newly released health & fitness app, MediTrends, does both. Released by DigiMed, LLC, MediTrends has two basic functions: first, it can store all of an individual (and children's) critical health parameters for easy retrieval. Using simple screens, the MediTrends App guides a user through each of the screens, requesting and storing the health data. Secondly, Meditrends stores standard test information in conjunction with personal health habits, then guides users through the simple inputting of this data. The patented algorithms will then instantly display the directional trend of that person's health.
Storing health data in an iPhone or iPad may not seem significant at first, but picture a typical Emergency Room scenario where either an individual or their child is speaking to all of the different emergency room personnel all requesting unique health information. With MediTrends, all of that critical health data is a finger touch away on your iPhone or iPad. Now all of the emergency personnel are on the same page and emergency treatment can be administered immediately with no errors due to incorrect information. The MediTrends App also has an Emergency Button for use when the user is incapacitated and cannot login to their data. This button will provide critical information such as contacts, personal physicians, pharmacies, insurances, as well as allergies and medications used by the person. This data could someday save a life. All of that critical health information is just a fingertip away.
What makes the DigiMed, LLC app MediTrends unique from any other Health and Fitness App is its ability to allow an individual to work proactively with their healthcare provider to plan a course to a healthier future. Using MediTrends' patented algorithms, developed using satellite technology, personal test data may be plotted individually or grouped under typical health issue categories, along with personal health habits such as exercise, dieting and more, to establish the direction a person's health is heading. Armed with this information, an individual becomes a powerful collaborator with their healthcare provider in planning a course of action to thwart a potential health issue before it occurs. The color-coded graphs provide an instant snapshot of where a person's health is headed and correlates that information to their personal health habits to reflect how one affects the other. MediTrends will make a healthcare provider's job a lot easier and provide satisfaction in knowing that a person has some control of their future health. MediTrends empowers an individual to better health.
Learn more: http://digimedllc.com/
Available at the App Store: https://itunes.apple.com/us/app/meditrends/id538176866?mt=8