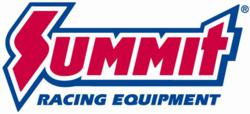 Tallmadge, OH (PRWEB) April 30, 2013
ProRYDE LIFTMachine™ ADJUSTABLE LEVELING KITS
The ProRYDE LIFTMachine is the only adjustable leveling kit available. It features an adjustable helix drive system that makes it a snap to set the exact height required to level your truck or SUV. The LIFTMachine is height-adjustable from 1.5 to 3 inches (depending on model) using standard 1/2 inch drive sockets and wrenches.
COMPLETE RELEASE.
MOTO METAL SKULL BLACK WHEELS
Moto Metal's Skull Black wheels feature five distinctive skull-shaped spokes with machined faces that stand out against the gloss black rim. The one-piece aluminum wheels are load rated from 2,200 to 3,600 pounds each depending on size and bolt pattern.
COMPLETE RELEASE.
SUMMIT RACING OVAL STEP BARS AND TONNEAU COVERS
Summit Racing Oval Step Bars combine the look of tube-style step bars with the strength and easy installation of a traditional running board. The 5-inch wide black polymer steps offer 50 percent more step area than tube-style steps. Summit Racing Tonneau covers feature a heavy-duty vinyl tonneau that attaches to the sturdy aluminum frame with Velcro®. That provides an easy-to-fasten, unbroken contact between rails and cover that holds up in all weather.
COMPLETE RELEASE.
Summit Racing Equipment
SummitRacing.com
1-800-230-3030