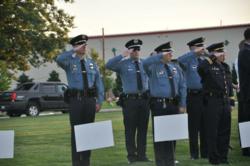 (PRWEB) April 29, 2013
Tuesday, May 7th 2013, The Peace Officers Memorial Service Committee and Baue Funeral Homes, Crematory & Cemetery will host the 21st Annual Peace Officers Memorial Candlelight Service at St. Charles Memorial Gardens.
Beginning at 7:00pm, this event will pay tribute to officers and friends, who have paid the ultimate sacrifice.
"We salute these men and women for their courage, commitment, and service and we honor those who have fallen in the line of duty," said Lisa Baue, president of Baue Funeral Homes, Crematory and Cemetery.
The candlelight service precedes Peace Officers Memorial Week, May 12 – 18. Guest speaker will be Jerry Lee, Director of Public Safety.
The event is cosponsored by the Peace Officers Memorial Committee and Baue Funeral Homes, Crematory & Cemetery – it is free and open to the public.
About Baue Funeral Homes
For over 75 years, Baue Funeral Homes has been committed to providing the best in life-honoring service to the families in the Greater St. Charles and St. Louis Areas. We offer complimentary grief counseling to families and are home to St. Charles Memorial Gardens, the largest and most beautiful cemetery in the region that serves all faiths. We have an on-site Flower & Gift Shop, we own and operate our own Crematory, offer Reception and Catering Services at all 3 locations, and provide cremation services for pets. For more information about the Baue Family of Services visit baue.com
About National Police Week
In 1962, President John F. Kennedy signed a proclamation which designated May 15th as Peace Officers Memorial Day and the week in which that date falls as Police Week. Currently, tens of thousands of law enforcement officers from around the world converge on Washington, DC to participate in a number of planned events which honor those that have paid the ultimate sacrifice.