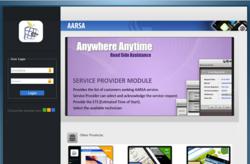 Irving, TX (PRWEB) April 30, 2013
Newt Global has showcased the capabilities of efmfm-AARSA at one of India's leading provider of premium automotive roadside assistance (RSA) services. AARSA is a complete solution to optimize the operational efforts of RSA providers for the automobile manufacturers. AARSA enables end-users to track real time location of technician (rescue vehicle) coming to attend the road side service request.
Newt Global had detailed discussions with Client's representatives about their business requirements and efmfm-AARSA solution. They were amazed to see the way efmfm-AARSA meets their needs.
Pilot was started with initial rounds of training on each module of efmfm-AARSA. Few RSA requests were captured and the process flow was analyzed for three days. After minor customization in web-console, efmfm-AARSA has exceeded client's expectation and performance criteria.
AARSA has a Web-console for RSA provider and three mobile modules for - End User, Service provider and Technician.
RSA provider can approve and renew membership for end-users and service providers. The registered end-user can raise a request for RSA by choosing from a range of options like breakdown, accident, low battery, out of fuel, flat tyre and many more, in just a click! RSA provider will receive and acknowledge RSA request alert from the end-user. He will search, select and send service request to the best possible service provider, based on the personnel availability and distance from the end-user. Vehicle recovery Service provider can acknowledge request and send the estimated time of start and details of the technician to RSA provider, which the RSA provider will forward to the end-user.
RSA provider can do the real time tracking of technician (rescue vehicle) and monitor the speed, status, distance from end-user and estimated time of arrival at customer site.
The Service provider module of AARSA populates a list of vehicle recovery requests. Service Provider will acknowledge these requests provided by the RSA agent. He will forward the ETS (Estimated Time of Start) and details of the available technician to the RSA agent by using application.
Technician module of AARSA application allows technician to acknowledge the service allotted by service provider and view the current location of the customer on his device and reach him. He can capture the photographs of vehicle in case customer requires insurance claim.
Other amazing features of AARSA are capturing service quality, keeping complete track of technicians with their photographs, Geo fencing option, automatic alerts for marketing like discounts etc. AARSA is a complete solution for all the challenges, faced by RSA industry.
About Newt Global Consulting, LLC
Newt Global Consulting is a MBE/WBE/HUB Certified Global IT services company headquartered in Irving, Texas and is a Tier-1 vendor to multiple Fortune-50 clients. They specialize in a range of IT services on a broad range of technologies, mobile development, QA, and program management. Newt Global leadership is committed to staying at the forefront of technology, and has invested in building a mobile development/testing framework and has recurring training programs in both iOS and Android. Learn more at http://www.newtglobal.com