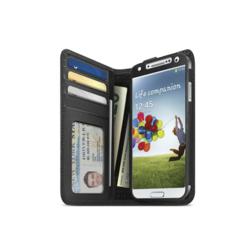 Port Washington, NY (PRWEB) April 30, 2013
iLuv Creative Technology, the premier provider of the most comprehensive line of accessories for the mobile lifestyle, is proud to offer an abundance of mobile accessories just in time for Mother's Day. With everything from stylish clutches and cases to quality headphones and speakers, no mom should feel unprotected or disconnected on this special day.
"We are excited to be able to offer the very best in quality and style for moms everywhere," said Jason Park, Marketing Manager at iLuv Creative Technology. "It's especially important that on Mother's Day people put a lot of thought into their gift-buying decisions. At iLuv, we care about our customers, and to help make that decision easier for them, we are happy to provide quality products at convenient prices."
iLuv Mother's Day inspired accessories include the following:
Atelier Clutch
Genuine Leather Clutch for iPhone 5
Users can feel stylish and elegant while protecting their phones at the same time with this trendy clutch for the iPhone 5. The Atelier Clutch is made with full-grain, genuine leather that will develop a beautiful patina over time. Inside, the clutch is lined with soft micro-suede to cushion the iPhone and protect it from scratches. Decorated with a Gaudi-inspired pattern of fluid lines, the Atelier Clutch also contains a magnetic closure to secure the phone, and a wrist strap for added convenience.
Belgique Sleeve
Foam Padded Sleeve for iPad Mini
The Belgique was designed for users who lead an active lifestyle and need a case that will protect their iPad mini from knocks and bumps while toting it around. Belgique allows people to use their tablet without being hindered by attachable cases while still offering complete protection when necessary. Style was also important in this design: the memory foam padding is stamped in a triangular pattern that was inspired by the beautiful mosaics created by famous architect and artist, Gaudi.
MobiOut
Rechargeable Splash-Resistant Stereo Bluetooth Speaker w/ JumpStart Technology
Now Mom can enjoy her favorite music while lounging by the pool or at the beach with MobiOut, a splash-proof Bluetooth speaker with a battery life of up to 9 hours that combines high-fidelity sound with wireless portability. MobiOut has a passive radiator that provides deep, resonant bass and a hands-free speakerphone with a built-in microphone. MobiOut also features Jump-start Technology, which means it can be used as an external power source to charge mobile devices.
Modena for Galaxy S4
Premium Leather Wallet Case
Go premium with Modena, a sleek leather wallet and case for the GALAXY S4. Fashioned from genuine leather, this refined accessory holds cards, cash and ID and secures them together with a snap closure. Users can access all of the phone's ports and controls, while also keeping their device protected against impact and scratches.
ReF Premium Headphones
Deep Bass On-Ear Headphones w/ Canvas Fabric Exterior
The ReF were specifically designed to fulfill the growing consumer demand for accessories that look as good as they perform. These headphones meet that demand by combining fashionable elements and premium technology to produce a product that wins approval from fashionistas and techies alike. The next addition to iLuv's Fashionology series, the ReF are available in red, black, blue, or white. Consumers can plug these headphones into an any iOS device or Smartphone to enjoy hands-free conversation or their favorite track and immerse themselves in the rich, deep bass and precise treble.
Availability
iLuv's Mother's Day-inspired accessories are available at select iLuv retailers and have an MSRP of $29.99-$129.99. All products are also available at http://www.iluv.com.
Follow us on Twitter @iLuv_World, or friend us on Facebook at iLuv Creative Technology.
About iLuv
iLuv Creative Technology, the premier provider of the most comprehensive line of accessories for Apple, Samsung and Smartphone devices, rapidly delivers products for today's discriminating consumers. Since inception, iLuv has amassed a total of 35 prestigious awards including 6 red dot product design awards, 4 prestigious iF Design Awards, 2 Good Design Awards, and 23 CES Innovation Awards. iLuv was also recognized with 1 Global iBrand Top 20 award. These awards serve as recognition for our innovative design and engineering across a range of mobile accessories, including headphones, adapters, speakers and chargers. Headquartered in New York, iLuv is a division of jWIN Electronics Corp., a leading consumer electronics company since 1997. All iLuv products are conceived, designed and developed in New York and continue to lead in quality, value, design and innovation. Learn more about our distinctive range of products and why iLuv means Innovative Lifestyle Unquestionable Value® at http://www.iLuv.com.
iLuv® and Innovative Lifestyle Unquestionable Value® trademarks are the exclusive properties of jWIN Electronics Corp. and are registered with the U.S. Patent and Trademark Office, and may be registered or pending registration in other countries. All other iLuv® trademarks, service marks, and logos may be registered or pending registration in the U.S. or in other countries. All other trademarks or registered trademarks are the property of their respective owners. © 2013 iLuv Creative Technology.
Media Contact:
Melissa Hoistion
R&J Public Relations
(908) 722-5757
mhoistion@randjpr.com
# # #