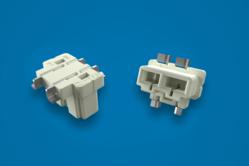 (PRWEB UK) 30 April 2013
TE Connectivity (TE), one of the world's market leaders in connectivity solutions, today announced the release of the Inverted Thru Board (ITB) Card Edge Connector which facilitates direct board to board mating of driver boards to the underside of LED array boards.
This surface mounted connector was developed for LED lighting applications and other devices to provide a cable-less, space saving power connection between a driver board and LED array PCB. When this connector is top mounted on an array PCB, the perpendicular mating direction into the underside of the array PCB makes the ITB Card Edge Connector ideal for space-limited applications.
These applications include LED Edison-style retrofit bulbs as well as MR16 and PAR series bulb replacements commonly used in spotlights, down lights, track lights, indoor and outdoor LED lighting fixtures. While designed for lighting applications, this product may also be used in non-lighting applications where a compact, right angle board to board interconnect is needed.
The ITB Card Edge Connector eliminates wire routing in assemblies by providing a direct mating solution for faster and easier assembly. By removing wires from the top side of the LED array board, the need to creatively route wires is eliminated and replaced with a low profile design that extends only 1.5mm above the top plane of the PCB. To further optimize system optical performance, the connector is designed with rounded corners to minimize shadowing from the light emitting surface.
Designed to be assembly-friendly, it features a flat top surface to allow vacuum pick up and is offered in tape and reel packaging for high speed SMT processing. The connectors are offered in two versions to accommodate board thicknesses of 1.0mm and 1.2mm.
For more product information, please contact your local TE Product Information Center or visit http://www.te.com.
About TE Connectivity
TE Connectivity is a global, $13 billion company that designs and manufactures approximately 500,000 products that connect and protect the flow of power and data inside the products that touch every aspect of our lives. Our nearly 90,000 employees partner with customers in virtually every industry—from consumer electronics, energy and healthcare, to automotive, aerospace and communication networks—enabling smarter, faster, better technologies to connect products to possibilities. More information on TE Connectivity can be found at http://www.te.com/.
TE Connectivity and TE connectivity (logo) are trademarks. Other logos, product and/or company names might be trademarks of their respective owners.