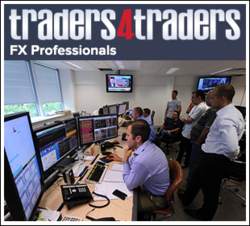 "We thought this was the perfect time to develop our training program, as we are experiencing unprecedented global growth," said a spokesperson for T4T
New York, NY (PRWEB) April 29, 2013
Traders4Traders, the global leader in forex trading services, is pleased to announce the launch of training programs featuring expanded offerings for students, and structural changes to the design of the programs.
Traders4Traders (T4T) is the world's premier provider of training programs, designed to provide investors with the unique skills to trade forex in what is one of the most complex marketplaces ever seen in the industry.
Recent changes included in the training programs provided by T4T include a live trading desk, e-learning module and the ability for students to take part in programs either on-demand or in-person. These expanded offerings became available after the company unveiled the introduction of a new website design, with features that increase user-friendliness and allow members of the training program to have more flexibility throughout the learning process.
"We thought this was the perfect time to develop our training program, as we are experiencing unprecedented global growth," said a spokesperson for T4T. "Our training program is a pivotal aspect of what we do, because it's imperative that we foster young talent and cultivate relationships with rising stars in the world of forex training at an early point in their career. We already offered the most comprehensive program of its type, and we just continue to build on the success we've seen with our training programs."
The structure of the program is designed to give qualified individuals the opportunity to build their knowledge of the industry, while simultaneously receiving real-world experience in the unique world of forex trading.
Students participating in the training program are given the opportunity to work with members of the T4T's senior trading team, in order to gain the hands-on training that is rarely offered to students of other training programs.
The reformatted training program comes as T4T is undergoing a global expansion effort, with the opening of offices in the biggest cities throughout the world, including New York and dealing rooms in London and Hong Kong.
About Traders4Traders
T4T is a proprietary trading firm specializing in the currency market. Their training programs have been designed by traders with over 40 years' combined FX experience as market makers. Traders4Traders's sole objective is to provide clients with high absolute returns within the boundaries of prudent risk management. They can be reached via their website at http://www.traders4traders.com/.