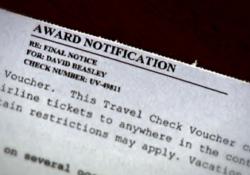 The BBB summary notes that "many of those complaints provide a glimpse into a complex network of evolving and widespread travel club schemes that deceptively operate throughout the country."
Dallas, Texas (PRWEB) April 30, 2013
A Better Business Bureau investigation into travel club promotions concludes that while law enforcement and marketplace advocates have tried to discourage the most questionable travel club practices, consumer inquiries and complaints show that travel club schemes are thriving.
Phone calls and mailings claim that consumers have been awarded airline or cruise tickets. To get the award, consumers must attend a presentation, which turns out to be a high-pressure sales pitch to pay thousands of dollars for a travel club membership.
BBB received over 200,000 inquiries nationwide in 2012 from consumers checking out travel clubs, and over 2,000 consumer complaints on travel clubs during the same time.
Four times in the last year, posts in the BBB's Consumer News and Opinion Blog warned consumers about travel club schemes as consumers flock online to find out if they have really won a free cruise or airline tickets as a telemarketer or mailing has claimed. The short answer is "no."
"Consumer interest in the schemes' promotional mailings is as popular as ever," noted David Beasley, Director of Trade Practice Investigations for BBB serving Dallas and Northeast Texas. "However, BBB found consumers are often disappointed when they find out the 'awards notifications' are merely a travel club promotion."
BBB serving Dallas and Northeast Texas undertook a study to determine the structure and methodology of some of the most popular travel club schemes. BBB's findings are described in an investigative summary, "Travel Club Schemes: Inside the Promotion Commotion." The summary is available online at http://tinyurl.com/cqxtftx.
The BBB summary notes that "many of those complaints provide a glimpse into a complex network of evolving and widespread travel club schemes that deceptively operate throughout the country."
The summary describes the players in travel club schemes – marketers, schedulers, distributors, administrators, and gift fulfillment services – and details earmarks of the schemes including deceptive advertising, hard-sales practices, and poor customer service.
Consumers report that they have paid between $7,000-8,000 for travel club memberships that provide little value over well-known free discount travel websites. Complaints on the airline or cruise tickets allege that unexpected fees and restrictions make the awards difficult to use.
To avoid the negative experiences of those consumers already taken by this scheme, the BBB offers the following tips:
• Check http://www.bbb.org prior to attending a travel club presentation;
• Be wary of offers that claim you've won a contest that you did not enter;
• Be wary of solicitations that fail to disclose the name of the soliciting company;
• Be wary of sales staff who use high pressure sales tactics or tell you that the offer is only good that day;
• Be wary of suspiciously high savings claims that you aren't able to verify prior to making a purchase;
• Research your right to cancel prior to going to a sales presentation;
• Only attend a presentation if you are actually interested in what the company is offering, not solely for the promise of a gift;
• Be wary of companies that don't use letterhead in formal communication. This could be a sign of a fly-by-night distributor; and
• Be wary of companies that use generic names or work out of what appears to be a short-lease office space. This could also be a sign of a fly-by-night distributor.
To check out a business, file a complaint, find alerts and tips, and more, start at http://www..bbb.org/. For the free BBB iPhone App see http://www.bbb.org/iphone. On your mobile device, visit http://m.bbb.org/.
About BBB
BBB serving Dallas and Northeast Texas is an independent, non-profit business-supported organization that sets and upholds high standards for fair business practices and works for trust in the marketplace. BBB helps consumers find and recommend businesses, brands, and charities they can trust. Businesses that earn BBB accreditation contractually agree and adhere to the organization's Standards For Trust. BBB provides services for both BBB Accredited Businesses and non-accredited businesses. BBB serving Dallas and Northeast Texas was founded in 1920 and is one of 113 BBBs serving the U.S. and Canada. Last year, people relied on BBB for Business Reviews, consumer tips, and scam alerts more than 124.5 million times. For more, start at http://www.bbb.org.