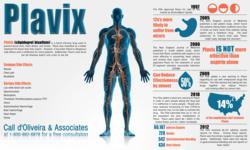 (PRWEB) April 29, 2013
In 1997, the FDA approved Plavix (clopidogrel) for sale on the market by its manufacturer, Bristol-Myers Squibb. According to The New York Times, Bristol-Myers Squibb marketed Plavix as a better treatment to prevent blood clots than Bayer's aspirin (i). However, the Los Angeles Times found that Plavix costs $3.22 on average whereas aspirin costs 4¢ per pill (ii). Medical studies have also tested whether Plavix does in fact perform better aspirin. In January 2005, the New England Journal of Medicine (NEJM) published a study, which found that patients taking Plavix suffered more than 12 times as many ulcers than patients taking aspirin and a heartburn drug. The lead researcher, Dr. Francis Chan said, "Plavix might really damage the stomach (iii)." In April, the NEJM published another study on Plavix and aspirin, which found that Plavix was not more effective than aspirin alone in reducing the rate of heart attack, stroke, or death (iv).
The FDA has added warnings to Plavix's label that it may be ineffective in some patients. In November 2009, the FDA added a new warning to Plavix regarding its use with omeprazole drugs like Prilosec. The FDA warned that taking the two drugs together can reduce Plavix's anti-clotting effect by about half (v). In March 2010, the FDA added a black box warning to Plavix. The warning stated that people who have reduced functioning of their CYP2C19 liver enzyme may not be able to activate the drug. The FDA estimated that up to 14 percent of the population are poor metabolizers of Plavix (vi).
The Plavix infographic lists possible side effects, which may allegedly include ulcers, gastrointestinal hemorrhage, brain hemorrhage, heart attack, or stroke. Additionally, the Plavix timeline provides important safety information in the development of the drug. Visit the Plavix webpage and view the Plavix infographic here: http://www.good-legal-advice.com/plavix.htm.
If you or a loved one has experienced Plavix side effects, you may want to file a Plavix claim. You should find the best personal injury lawyer because you may only have one chance to obtain justice. A dangerous drug attorney familiar with the blood thinning drug may be able to provide you with important personal and legal advice. d'Oliveira & Associates, P.C. is working with some of the more experienced Plavix lawyers in the country who handle these cases.
Please contact the law offices of d'Oliveira & Associates, P.C. at 1-800-992-6878 or fill out a contact form for a free legal consultation.
(i) http://www.nytimes.com/1997/10/25/business/new-heart-drug-wins-approval-of-fda-panel.html
(ii) http://articles.latimes.com/2002/jun/10/health/he-plavix10
(iii) http://www.nytimes.com/2005/01/20/health/20drugs.html?_r=2&
(iv) http://www.nejm.org/doi/full/10.1056/NEJMoa060989
(v) http://www.fda.gov/NewsEvents/Newsroom/PressAnnouncements/2009/ucm191169.htm
(vi) http://www.fda.gov/NewsEvents/Newsroom/%20PressAnnouncements/
ucm204253.htm