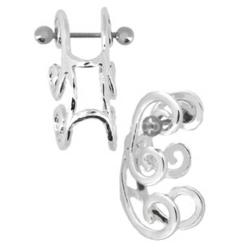 Adding products to our Amazon.com storefront has really been a great way to reach potential new customers that may not have found our regular website.
Urbana, IA (PRWEB) April 29, 2013
The first quarter has been a successful one for e-commerce retailer BellyBling.net, as the company reports an impressive jump in revenue for its Amazon.com storefront.
In January 2013, the company's merchandising team began adding over 300 new items on the popular shopping website, and revenue has been steadily increasing each month. The company has seen an increase of just over 76% from February 2013 through the last week of April for its Amazon storefront. BellyBling.net now features 455 products on Amazon.com, including belly button rings, ear plugs, nose rings, and other body jewelry.
Product specialist Tammy Karr says the company had previously offered only about 100 items through its Amazon storefront, keeping the focus on adding new products to its main website, BellyBling.net. A goal for 2013 was to increase opportunities to reach new customers via new avenues, and Amazon.com seemed like the perfect vehicle.
"The number of consumers that go straight to Amazon.com when online shopping is incredible," said Karr. "Adding products to our Amazon.com storefront has really been a great way to reach potential new customers that may not have found our regular website."
With the Amazon website, customers can type "BellyBling" into the search box and all of the company's products will show in the results. Customers that purchase via the company's Amazon.com storefront also receive free shipping within the continental US.
Additional avenues the company is using to reach new customers are social media channels Pinterest, Twitter, Google+, and Instagram. Facebook has always been a successful tool for the company, so Karr says it only made sense to search out other social media options.
"We are constantly adding new products to our website and we've found the immediacy of social media to be a great way to get the word out," said Karr. "We also count on social media as a way for us to hear from our customers about what products they'd like us to offer."
In fact, Karr says many of our newest product offerings like cartilage jewelry and tragus earrings have come from customer suggestions via the company's social media sites. Ear cuffs are another product category that has increased substantially based on what the BellyBling merchandising team is seeing on social media. While Facebook continues to be the most popular social media platform for the company, sites like Pinterest and Instagram, which involve posting photos, are growing quickly and offering valuable insights for the company's merchandising team. Says Karr: "Ours is a very trendy, fast-changing industry; sharing images of ideas and styles is an extremely easy way to communicate with our customers."
In addition to the new social media presence, the company has also recently expanded its BellyBling blog, making it easy for customers to sign up for emails, "like" the BellyBling Facebook page, and see recent updates to the company's Pinterest and Instagram pages.
According to Karr, the company plans to continue adding new products to both its Amazon.com storefront and main website, and is also developing promotions around their social media sites. "We're thrilled we are seeing such immediate results for our recent efforts; we're really excited to see what the remainder of 2013 holds for us."
###
About BellyBling.net
BellyBling is an e-commerce merchant owned and operated in Urbana, IA under parent company Clickstop, Inc. Focused on offering trendy, stylish body jewelry, BellyBling strives to make customer service a top priority, with the very best selection, value prices, and extraordinary service to every customer. To view the full selection, visit http://www.BellyBling.net.