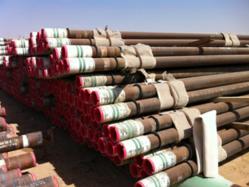 Houston, Texas (PRWEB) April 30, 2013
Tru-Markets is offering over 450,000 feet of surplus CRA and Carbon Steel OCTG to the exploration and production pipe markets. The OCTG is now available due to inventory rationalization efforts at a large Oil and Gas company in the Middle East. The unused tubing and casing inventory - including details, specifications, and digital photos - can be viewed online at http://www.tru-markets.com
Highlights of the sale include:

242 joints of 4-1/2in 12.6# SM2535-110 Tubing
1101 joints of 5in 20.3# SM13CRM110 HC Casing
2088 joints of 5-1/2in 17# SM13CRM110 Casing
2929 joints of 5-1/2in 23# SM13CRM110 Casing
243 Joints of 7in 29# SM13CR L80 Casing
407 Joints if 9-5/8in 40# L80 Casing
263 Joints of 13-3/8in 72# L80 Casing
The sale also includes an additional 7000 joints of unused casing, tubing, and wire wrapped sand screen.
"This opportunity builds on our recent success of OCTG sales on behalf of major oil companies. Our regional experience, unique marketing approach, and inventory rationalization solutions were critical to bringing this exceptional inventory to the world wide tubulars market." explains Chad Farrell, Managing Partner at Tru-Markets. "We are pleased to continue our growth in serving the surplus equipment needs of the Middle East. This is a great opportunity for Oil & Gas companies, distributors, pipe suppliers, and stockists to secure prime pipe for their upcoming well programs and inventory needs."
The Corrosion Resistant Alloy (CRA) OCTG market is a subset of the tubular market and comprises approximately 0.1% of the world wide stainless steel production. Although not widely used, this material plays a valuable role in the oil and gas industry's efforts to manage corrosion.
The Tru-Market's online marketplace provides global energy equipment buyers with an efficient buying experience. Offers on this sale of prime unused surplus pipe can be placed online via a computer or mobile device located anywhere in the world. Buyers interested in the orderly liquidation of this pipe can visit http://www.tru-markets.com for more information.
For sellers of surplus, trusted energy companies can depend on Tru-Markets' flexibility, focus, and speed to convert surplus equipment to cash and to meet their unique project requirements and investment recovery goals. Visit http://www.tru-markets.com/sellsurplusequipment to explore the benefits of selling surplus oilfield equipment with Tru-Markets.
About Tru-Markets
Tru-Markets is an Investment Recovery Company and Online Marketplace for Energy Equipment. Tru-Markets services are backed by an industry exclusive Tru-Guarantee as well as a Customer Bill of Rights. The company focuses on the capital asset divestment needs of Energy companies and provides solutions and flexible sales channels to market and sell surplus energy equipment. To schedule an interview with Tru-Markets, please contact Tru-Markets at (855) 879-8786. For general information, please visit http://www.tru-markets.com