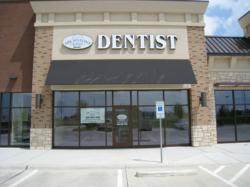 Fort Worth, TX (PRWEB) April 30, 2013
Archstone Dental will be holding a Free Dental Day on May 11 at 639 Alta Mere Drive in Fort Worth, TX. Each month, Dr. Gabriel Shahwan and his staff will provide dental services and exams at no cost for any member of the community. After a limited exam, X-ray, and approval by Archstone's dentist, registered patients can receive one treatment including a simple filling, simple extraction, or basic cleaning.
Register in advance for the Dental Day on the first Wednesday of every month, which will be May 1. Interested persons can call (817) 737-7711 to schedule an appointment with a staff member, and patients will be seen on the following Saturday.
Appointment reservations will be accepted on a first come, first served basis, and appointments must be made prior to the event. If patients are not able to schedule an appointment during Free Dental Day, patients are encouraged to ask about the $40 comprehensive and X-ray special during regular office hours.
Archstone Dental was founded in 2009, and now has five offices conveniently located in Fort Worth, Granbury, and Weatherford. The practice aims to make oral health care accessible to everyone, and caters toward families. The offices are specially designed to be a fun place for children to visit, and are equipped with TVs, video games, and toys to help them look forward to coming to the dentist.
To date already this year, Archstone Dental has donated more than $29,000 dental services to the community. Visit http://www.archstonedental.com/free-dental-day for more information about the monthly event.
About Archstone Dental
Archstone Dental, the office of Dr. Gabriel Shahwan, strives to provide the highest quality dental care in a family centered practice while also incorporating the newest technologies available. The dentists and associates work diligently to make sure that each and every visit to the dentist is a pleasant one. Combining the right mix of personal care, high technology, and continuing education, Archstone Dental maintains a commitment to their patients in every facet of their practice. The practice offers dental and orthodontic services for people of all ages.
Archstone Dental is open Monday through Friday from 9 a.m. to 6 p.m., and every other Saturday from 9 a.m. to 3 p.m. The office accepts Visa, MasterCard, Discover, PPO insurances, Medicaid, CHIP, cash, and checks. Archstone Dental has several locations serving the communities of Fort Worth, Granbury, and Weatherford. To learn more information, call (817) 737-7711 or visit http://www.ArchstoneDental.com.