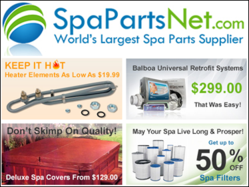 "If you are considering buying a hot tub please ask your dealer to be sure the spa either has the new suctions or will be retrofitted prior to delivery," said a representative of SpaPartsNet
(PRWEB) April 30, 2013
SpaPartsNet™, the popular online supplier of high quality hot tub and spa parts and chemicals, is seeking to raise awareness of specific spa safety measures in light of the recent death of an innocent child in a hot tub accident. The youth was horrifically drowned, due to the spa's drain suction power trapping the young victim underwater. The death of the child, in an otherwise easily preventable accident, underlies the need for hot tub and spa owners across the nation to become aware of, and adhere to, basic safety standards.
In particular, SpaPartsNet seeks to bring attention to the Virginia Graeme Baker Pool and Spa Safety Act passed through congress and signed into law by then President Bush in December of 2007. This law was a sweeping national safety change that forced new spas built after 2008 to include a specially designed drain suction safety device. When water flow is blocked, the vacuum suction stops, thereby releasing anyone trapped in its otherwise powerful suction force.
The law was a reaction to the death of a seven-year-old girl named Virginia Graeme Baker, who drowned after being sucked into a spa's drain. Although a perfectly capable swimmer, she lacked the physical strength needed to free herself from the overwhelming force of the drain. The drain was so powerful, in fact, that even the added strength of her mom was not enough to free young Virginia. It eventually took the addition of two other men to finally free her body from the drain's deadly grip.
To avoid future reoccurrences, it was mandated that manufactures use the newly designed drain device in all new spas post 2009. Unfortunately, the economic downturn of 2008 left large inventories of hot tubs made just before the new drain regulator was available. This means that thousands of hot tubs sold even today may not have the safety devices built in.
"If you are considering buying a hot tub please ask your dealer to be sure the spa either has the new suctions or will be retrofitted prior to delivery," said a representative of SpaPartsNet.
The new safety functions can be installed, with relative ease, on spas predating the new safety standards.
"If you purchased a spa prior to January 2009, please be sure to change your drain suctions to the new safety suctions. It only takes a few minutes and can easily be done without much effort. You will not have to replace any plumbing. Changing the suction face will only require a Philips head screwdriver and a few minutes of your time."
As the largest spa parts supplier in the world, SpaPartsNet is dedicated to offering their customers the highest quality name brand products for hot tub parts, spa pumps, spa covers, spa filters, spa controls, and hot tub jets for the lowest prices online. They hope new spa customers take notice of the Virginia Graeme Baker Pool and Spa Safety Act and move to ensure their new or current hot tub meets existing safety standards to help put an end to these tragic deaths across the nation and beyond.
"Sitting in your hot tub should not be dangerous. Please take the time to make the changes; you will be glad you did!"
About Spa Parts Net
SpaPartsNet™ is the leading online supplier of high quality spa parts and chemicals. They are dedicated to offering excellent customer service and a large selection of name brand hot tub and spa parts and chemicals, including Aqua Clara, Balboa, GE Motors, Gecko Electronics, Power Depot, DelZone, Spa Builders and more at guaranteed low online prices. They have a fully trained customer service representatives dedicated to assisting customers find the right parts or accessories. SpaPartsNet™ provides only authentic "brand new in the box" products, never re-manufactured, re-furbished, or counterfeit merchandise. For more information, visit http://www.spapartsnet.com/ or follow them on Facebook, Twitter, YouTube, or LinkedIn.