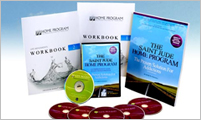 We are excited to offer an affordable research based program to help people to overcome their drug and alcohol problems.
Amsterdam, New York (PRWEB) April 30, 2013
In honor of Alcohol Awareness Month, the Saint Jude Program announced today that they will offer a special promotion of 40% off the Home Program Bundle Pack. The Saint Jude Home Program is perfect for someone who wishes to work on changing themselves and overcoming substance use problems in the privacy of their own home. The Saint Jude Program announces that the promotion will last from April 30 through the end of June 2013.
Chairman and Co-Founder Mark Scheeren hopes that the Saint Jude Program will impact those who have been through previous alcohol treatment programs, that have provided them with lackluster success and results.
"We are very excited to offer an affordable research based program to help people to overcome their drug and alcohol problems. The Saint Jude Program is steadily changing the way people view the problem commonly known as addiction," Scheeren quotes. "I hope that this book offer will help those who are seeking a completely different approach from 12 step meetings and alcohol treatment programs as it empowers people to change their lives and build a much better future, instead of chaining them to their past failures. "
The Saint Jude Home Program teaches readers how to create a total life transformation in the privacy of their own home. The program's core methodologies are centered on values such as responsibility, choice, determination and education. It has been praised by leading addiction specialists, educators, scientists and psychologists alike. To learn more about the Saint Jude Program read about them on Saint Jude Retreats Reviews.
Executive Director Michelle Dunbar, oversees operations of all aspects for the Saint Jude Program. "Some people find success with our program on their own, while others like the environment our retreats provide. The Home Program is great for those who know they are ready to leave alcohol or drug problems behind, but don't know where to start. Ultimately, our goal through this promotion is to spread awareness to substance users and their family that addiction doesn't have to be a hopeless battle, and that anyone can make lasting lifestyle changes if given the right information."
To take advantage of this offer visit the Saint Jude's Home Program website and enter the code: awareness2013
About Saint Jude Retreats:
The Saint Jude Retreats is a non-disease, non-treatment based drug and alcohol program implementing proprietary methodology called Cognitive Behavioral Education (CBE). The program is the only effective alternative to alcohol rehab and drug treatment centers. The program is endorsed by internationally acclaimed professionals and addiction research authors such as Prof. Emeritus David Hanson, PhD; Prof. David Rudy, PhD; Dr. Joy Browne and the late Joseph Vacca, PhD, among others.