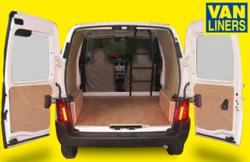 We often get asked how to fit our ply lining kits, that's why I've decided to share my tips on how to do it properly.
Bolton, Lancashire (PRWEB) April 29, 2013
Established sixteen years ago, Vanliners has grown quickly and become the market leader in ply lining, offering a wide and varied range of quality van-related products nationally.
Vanliners supply all sizes of companies ranging from 'one-man-bands' to larger businesses with fleets of vans. Their lining kits can be bought in kit form or alternatively they can be fitted at their Bolton workshop whilst you wait.
Shaun Taylor is the sales manager at ply lining specialists, Vanliners. "We often get asked how to fit our ply lining kits, that's why I've decided to share my tips on how to do it properly."
"I hope our tips and advice will help the country's van owners make sure their vehicle is lined exactly how we would do it. We also have an instruction video that is available for everyone to watch on YouTube," said Shaun.
"I would recommend reading the following a few times and watching our video before making a start," Shaun added.
To view the video, please click http://youtu.be/Wc5YXFVzoaU.
1. Check Your Kit
Once you have received your ply lining kit, check everything is included. A typical kit should include floor, sides, wheel boxes and door panels. Also self-tapping screws, brass wood screws and sealant should be provided.
You may need white or brown blocks too. Check with your supplier if these are a requirement for your van model. It's a good idea to lay your kit out on a garage floor or large flat area to check everything has been supplied.
2. Side Panels
Side panels should always be fitted first and with most kits, they can only be fitted one particular way.
"Make sure you use silver tapping screws and fit the board to the metal ribs of the van. The majority of kits are pre-drilled but if yours isn't, take care when drilling as you may damage the outer skin of your van if you drill too far," advises Shaun of van racking specialists, Vanliners.
"If you own a Ford Transit van then be aware that the majority of these models come with load rails. If your van doesn't have load rails you will notice a gap of around 70 to 80mm once the side panels are attached. This can be covered by using a joining strip," added van racking retailer, Mr. Taylor.
3. Floor
Once you have screwed the side panels into position, it is now important to fit the plywood floor panels.
"Most floor panels will be pre-drilled so all you should have to do is position them and fix with brass wood screws," recommends Shaun, Sales Manager of van racking specialists, Vanliners.
"Remember that you will be screwing directly into metal so take your time and please be careful," added the van conversions specialist.
4. Wheel Boxes
Once the floor is in place fit the wheel boxes using brass wood screws.
Screw directly through the wheel box and wheel arch. The tip of the screw should now poke out on the under side of the wheel arch.
"Once this has been done, go outside your van and using a pair of pliers reach under the wheel arch, grab the exposed tip of the screw and snap off the excess," advises van conversions expert, Shaun.
4. Door Panels
These should be the last panels to be secured.
If your kit has bottom door panels, fit them just like you did when fitting the sides.
The top panels which go where the windows would be are fixed in place by using small white blocks.
Place the panels in the space and place a block at the bottom of the panel with the hole in it facing vertically downward. Then use a silver self tapping screw to fix to the door.
"Remember you are screwing downward and not towards the rear of the van. Repeat this process to hold the panel in place," advises the van roof racks retailer.
5. Sealant
Your kit should include a quality plywood sealant.
Use this to seal around the edges of the floor and wheel boxes. You can seal all the edges if you prefer but we believe that just sealing the floor and boxes will be sufficient.
6. Edging Strips
Aluminium edging should be included with your lining kit. Use this to finish lining your van and fix using medium -ized silver screws. Screw vertically downward through the strip and in to the plywood.
Repeat until the strip is secure, three or four screws should be enough to make sure the strip is attached securely.