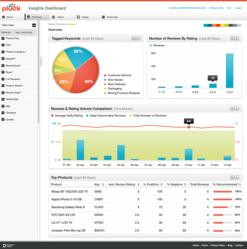 Austin TX (PRWEB) April 30, 2013
Pluck, provider of the most comprehensive Customer Interaction Platform for retailers and brands, today announced the beta release of Pluck Insights, its new reporting and analysis suite. Pluck Insights will be released in parallel beta tracks to select Pluck customers between now and the product's general availability, currently scheduled for the third quarter. There are no additional charges for Pluck clients for the Pluck Insights product.
Pluck Insights helps retailers, publishers and brands better measure and understand:

their Products, using shopper and customer-generated data in Ratings, Reviews and other interactions;
the Financials of their Pluck and other social investments, by linking conversion and average order value with customer interaction data;
the Users of their Pluck-driven customer experience, including shoppers, customers, suppliers, employees and partners; and
their Usage of Pluck, with analysis of activity and performance across every aspect of the platform, including all 15 applications and key features like gamification and social sign-on.
"Pluck Insights represents a significant extension to the Pluck customer interaction platform," said Jason Crickmer, VP, Technology & Services at Pluck. "Its design and capabilities were driven by the requirements of some of the world's most advanced retailers, publishers and brands. And it is uniquely tuned to highlight value across feedback, assistance, contribution and representation scenarios."
The Pluck platform has always offered basic reporting, available visually, through downloadable files, and via specific API requests. However, Pluck Insights represents a significant leap forward. With Pluck Insights, executives will have new tools to answer questions such as:
How should I tune my collection of integrated customer interactions (recommendations, reactions, ratings, sharing, discussions, posts, etc.) for maximum participation and consumption?
What is the impact of page placement, visual layout, attributes and other aspects of reviews on conversion rates and average order sizes?
Which buyers in my organization and which suppliers and manufacturers are responsible for the highest rated products?
What tagged keywords are associated with the highest and lowest rated products?
Why do certain customer cohorts tend to participate more? How can we motivate others to participate in high-impact ways?
Are there certain acquisition sources (e.g. social media, search) that lead to higher value interactions?
What devices and pathways are my customers using to produce and consume content?
In particular, Pluck Insights will help major retailers and brands understand and navigate an increasingly omnichannel world, where customer interactions occur across a variety of channels (websites, social networks, stores, contact centers), in concert with ecommerce platforms (IBM WebSphere Commerce, Oracle ATG, Demandware Commerce, hybris Commerce Suite) using devices (laptops, smartphone, tablets) of the customer's choosing. Pluck Insights will address this complexity with a mix of configurable reports with filtering capabilities that mirror the many dimensions of retail.
About Pluck
The Pluck customer interaction platform is used by more than 650 retailers, brands, and publishers and entertainment groups, including Ford, Whole Foods Market, Redbox, Target, AARP and the NFL. These market leaders integrate Pluck's 14 social applications and numerous supporting capabilities into their brand site pages and smartphone and tablet apps, to grow and engage their audience, drive conversion and inspire customer delight. Pluck is owned by Demand Media, Inc. (NYSE: DMD), a leading digital media company that informs and entertains one of the internet's largest audiences. For more information about Pluck please visit http://www.pluck.com.