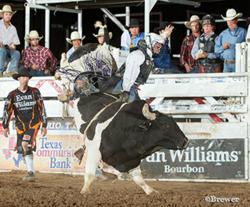 This is what every cowboy dreams of winning
Fort Worth, Texas (PRWEB) April 30, 2013
The 36th Annual George Paul Memorial has come to an end and Trey Benton from Rock Island, Texas will be added to the list of other legendary bull riders who have won the prestigious title. Names like Tuff Hedeman, Lane Frost and Jim Sharp have all entered the history books in honor of the man who many will say was the best bull rider of all time, George Paul.
Benton certainly is deserving of the honor. Over two nights of competition in Del Rio, he rode three bulls, each of them for 90 points! (Shine Time- The Dalton Gang, Lumber Jack- Johnson Rawley, Boys Town-Scott Burruss)
Mobbed by fans after the event Benton stated, "This is what every cowboy dreams of winning. It's an honor and I'm just overwhelmed by all the fans and the love they have for this event. It's the greatest feeling."
Benton was given the opportunity by Ram Country Dodge to make a $5,000 donation of his choice and he choose to give the check to fellow bull rider Jared Long who broke his leg at the CBR event in Las Vegas two weeks ago. Long will be out of competition and is unable to work because of the severity of the injury. The gift of this donation could not have come at a better time or a more appreciative person.
"I just don't know what to say," a shocked Long said via phone when he was told about the donation. "I mean I wish I could have been there in person, but this is just so amazing. I thank Trey and Ram County and I really am speechless."
"I'm just happy I could do it for him," stated a modest Benton. "We all do this for a living and when we can't make a living, than we need to step up and help each other out."
Palace Station Million Dollar Team winner is Johnson/Rawson.
The CBR "Road To Cheyenne Tour" is now on hiatus until the World Championships at Cheyenne Frontier Days July 22nd and 23rd. Watch the premier of the second season of CBR on FSN May 26th at 6PM.
About CBR
Led by bull riding icon, Tuff Hedeman, Championship Bull Riding, Inc. (CBR) is a nationwide, professional bull riding organization. The CBR Tour events are professionally produced live shows designed to be an adrenaline rush the whole family will enjoy. CBR is broadcast primetime, nationwide, on FOX SPORTS NETWORK (FSN) with over 26 weeks of gripping, television seen by more than 14 million viewers annually. Combined with its subsidiary tour, the Horizon Series, CBR will visit over 70 venues throughout the United States reaching more than 250,000 fans in live attendance this year. CBR is the home of THE REAL COWBOY SPORT™ - the best bull riders and bulls in the world. We are committed to the riders, the fans, corporate sponsors, and all those involved in the professional bull riding industry. For more information on CBR, please visit http://www.CBRbull.com or call us today at 817.626.BULL (2855).