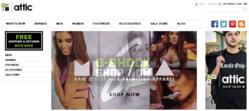 We wanted to be visually friendly and have a cleaner design than our competition
Los Angeles, CA (PRWEB) April 29, 2013
Attic, the "Home of Streetwear" has a new website design and social media presence with accounts on Facebook, Pinterest, Twitter and Blogger to communicate with the latest in modern urban wear with their standard free shipping and returns both ways policy for everything but sale items.
Attic's Manager Sam Kim said they're proud to keep with the hottest and hippiest brands like Diamond Supply Co., Undefeated, The Hundreds, Crooks & Castles, Black Scale, Foreign Family, Acrylick, Imaginary Kingdom, Stussy and Living Experiment. "With our Facebook friendly platform, we can listen to our customers and stay ahead of the trends," said Kim.
The new design makes it easier for customers to choose color and size. "We wanted to be visually friendly and have a cleaner design than our competition," said Kim, "notice the clean white background and symmetrical photos, it's easy on the eye and enables us to update inventory accurately without disrupting the shopper experience."
Men and women can purchase popular products like Converse Pro-Leather Vulc Men for $60, HellzBellz Sweater for $78, fashionable accessories, stainless Meister watches with deep discounts, and more. To discover the new Attic Online Store, visit http://www.atticonlineshop.com
###
About Attic: Attic is the original urban contemporary lifestyle and street wear fashion project. They represent a community of diverse individuals who are united through raw energy, simple elegance and incisive intelligence. Attic is a community that demonstrates humility while quietly setting revolutionary trends by showcasing exemplary behavior towards others and giving back to the community that has made us successful. It's not about the lifestyle of fancy clothes, cars and big houses. It's about living a life dedicated to others and enjoying the perks of hard earned success.
For more information, contact Sam Kim by writing customerservice(at)attic2zoo(dot)com or calling 888-YO-ATTIC.