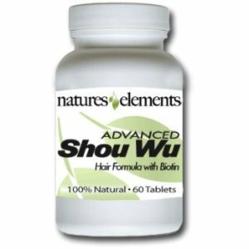 This product is great! After taking He Shou Wu for a month my hair started growing again on spots where it was only falling out for over 5 years.
Lindenhurst, NY (PRWEB) April 30, 2013
He Shou Wu is also known as Fo Ti, Shou Wu or Shou Wu Pian. He Shou Wu's primary goal is to increase overall health and thereby in time often will improve the health and youthfulness of the hair as well. Natures Elements has sold He Shou Wu to customers for years with continued success. Advanced Shou Wu was formulated so customers can experience higher percentage results from black pepper extract also known as bioperene. Bioperine helps increase the absorption of He Shou Wu and all the ingredients contained in this new formula. By increasing the body's ability to absorb, Bioperine lets each ingredient work to its maximum level. A list of all the ingredients and their benefits can be found at http://natureselements.net/ADVANCED-SHOU-WU.html
A 12:1 extract ratio is contained in both Natures Elements Advanced Shou Wu Formula and Original Shou Wu. Vitamin companies selling He Shou Wu often sell less potent powders requiring much higher dosages, some of which are upwards of 9 tablets a day! Because Natures Elements He Shou Wu is so concentrated consumers only need to consume 2 tablets a day.
By nourishing the liver and kidneys, He Shou Wu stimulates blood circulation to the head providing healthier hair. He Shou Wu promotes the production of melanin that nourishing hair follicles. Reduced melanin is the leading cause for graying hair. By He Shou Wu promoting the production of melanin, the hair decreases in grays and can darken back to its natural color. In addition to its hair promoting benefits, studies have shown that He Shou Wu may lower cholesterol in part to the herbs lecithin content. He Shou Wu helps to promote increased antioxidant activities in the body, proper red blood cell generation and slow down gland degeneration, which all work to slow down the aging process. All these reasons certainly make it a tonic worthy of taking for the rest of one's life!
Natures Elements provides there customers with the option to choose the Auto-Ship feature. This is the easiest most convenient way to get all the benefits from the company including 20% off all reoccurring orders and free gifts.
Natures Elements, a high quality vitamin and herbal supplements retailer, is committed to providing real results through dedicated research and superior formulations.