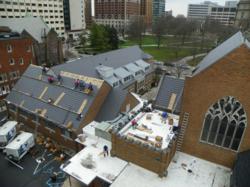 The roof that we chose provides permanent protection for St. Paul's and it fits perfectly with the appearance of the building. It truly is beautiful. -Max Pierce, Chairman of St. Paul's Building and Grounds Committee
Lansing, MI (PRWEB) April 30, 2013
Ninety-nine years after initial construction, historic St Paul's Episcopal Church in Lansing, MI now has a permanent metal roof. The two phase project, begun in the Fall of 2012, was recently completed by American Metal Roofs (AMR) of Flint, Michigan.
"We're very proud of this project," said Frank Farmer, president of AMR. "Churches are an important part of our business and this one is one of our biggest church projects in the past few years."
Standing in the shadows of the Michigan Capitol building, St. Paul's Episcopal has been serving the Lansing community since the mid-1800's. The current building was constructed in 1914 and now offers a grand and historic experience for visitors.
"The roof that we chose provides permanent protection for St. Paul's and it fits perfectly with the appearance of the building," said Max Pierce, volunteer Chairman of St. Paul's Building and Grounds Committee. "It truly is beautiful," he added.
The project was completed in two phases with initial work beginning in October of 2012. "The first phase included mainly the parish building," said Pierce, "but members and visitors are now getting to see the more dramatic second phase of the project which included the main church building. So far all reactions have been very positive. AMR did an outstanding job!"
AMR is headquartered in Flint, Michigan and has been in operation since 2000. Specializing in residential metal roofing sales and installation, AMR has also installed roofs on over 20 churches in Michigan.
About American Metal Roofs:
American Metal Roofs provide residential and commercial metal roofing products and services throughout Michigan. Customers receive stunning, permanent, energy-saving metal roofs, professionally installed.