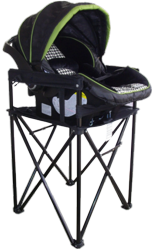 We simply need to make room for new inventory
Spartanburg, SC (PRWEB) April 30, 2013
The Dual-Mate™ Travel Highchair sold by Hollett Baby is selling quickly at the inventory clearance sale price. The patented Dual-Mate™ Travel Highchair is the only travel highchair that converts to hold a baby carrier, folds like a camping chair, and fits neatly in its own carrying bag. During Hollett Baby's Inventory Clearance Sale, the price for the travel highchair drops from $65 to $24.95.
"We simply need to make room for new inventory," said Stephen Hollett, CEO of Hollett Baby. "We are busy planning the launch of our new line of personalized slipcovers for the Dual-Mate™, and we are happy to be able to pass along significant savings to our customers during this sale," said Hollett. "We also think this would make a great gift for a new mom for Mother's Day, or even for a grandmother that likes to keep her grandchild, but perhaps doesn't need, or have the space for a highchair that sits out all of the time."
The Dual-Mate™ Travel Highchair has met favorable reviews from parents, grandparents, parenting blogs, and even some restaurants that use the Dual-Mate™ as a baby carrier stand for customers. The Dual-Mate™ is a portable highchair/infant carrier stand (weighing only 7.5 lbs) that folds like a camping chair and fits in a carrying sack. Parents can throw the highchair over a shoulder and take this highchair/baby carrier stand anywhere. It is ideal for:

Traveling
Visiting friends and relatives
Camping highchair (or glamping!), or for picnics
Taking to the beach
Tailgating at sporting events
Going to church
Sports practice or games with siblings (soccer, football, swimming, baseball, etc.)
Taking into restaurants so parents know the child has a clean place to sit!
Use in restaurants that don't provide a safe place for a baby carrier
Great highchair to keep at the grandparent's house
For holidays when the family gathers and an extra highchair is needed
Use at home while doing chores to keep the baby carrier off of the floor
Dining out on the deck
Going to the park
Hiking, biking, or simply out shopping
Hollett Baby will continue the current sale until the current inventory is depleted, and the sale price only applies to stock on hand.
"There is still time to ship a Dual-Mate™ out for Mother's Day," said Lisa Hollett, President of Hollett Baby. Expedited shipping options are available. "With the warmer weather, many families are out and about, enjoying outdoor activities. Now is the perfect time to grab this portable highchair and baby carrier stand while the sale price is in effect, and just before the launch of the new monogrammed slipcovers that will be available very soon," said Hollett.
About Hollett, Inc.
Hollett, Inc. is a family owned business located in Spartanburg, SC. The company was founded on one simple principle: offer families and restaurants safe, simple to use, and stylish high chairs and accessories that help make the dining experience more enjoyable. http://www.hollettbaby.com
Stephen Hollett, CEO of Hollett, Inc. invented and patented two high chairs for use in the home, while traveling, and in restaurants. The Travel Dual-Mate™ is the only portable and foldable travel high chair that safely holds an infant carrier and easily converts to hold a toddler, making it ideal for: vacationing, camping, picnicking, visiting friends or relatives, or in a restaurant that may not understand the importance of providing safe seating accommodations for babies and toddlers. In addition to the portable highchair, the Dual-Mate™ highchair will be offered in wood, aluminum, and plastic. The Hollett™ product line also includes customizable seat covers.
Mr. Hollett, a former resident of Winston-Salem, NC, holds an M.B.A. from the University of Miami in Coral Gables, Florida and a B.S.B.A. from East Carolina University in Greenville, NC. Lisa Hollett, President of Hollett, Inc. studied mass communications at the University of South Carolina, Upstate and has fifteen years of experience in working with young children and their families while staying current on the latest trends in childcare. For additional information on Hollett, Inc. or its products, contact:
Stephen Hollett, CEO [stephen at hollettbaby dot com] or
Lisa Hollett, president [lisa at hollettbaby dot com] or
visit their website at http://www.hollettbaby.com.
Toll-Free (888) 632-6982 or (864) 285-0171