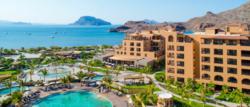 We're proud to be able to offer an array of SCUBA experiences for both children and adults, right here at the resort. - Owen Perry, owner and president, Villa Group
Islands of Loreto, Baja, Mexico (PRWEB) April 30, 2013
Exploring "the world's aquarium" just got easier, thanks to Villa del Palmar at the Islands of Loreto, the newest member of Villa Group Resorts, which is offering an expanded slate of resort-operated SCUBA diving programs, including Professional Association of Diving Instructors (PADI, the world's largest recreational diver training organization) certification. This focus on SCUBA programs allows guests to experience the exhilarating marine life along the Baja Peninsula and Sea of Cortez in a way not offered by many resorts.
Dubbed "The Aquarium of the World" by Jacques Cousteau, the indigo waters of the Sea of Cortez (and The Bay of Loreto National Marine Park at the heart of it) are home to nearly 1,000 species of reef-dwelling and migratory fish, in addition to soft corals, mollusks, mother-of-pearl, starfish, sea urchins, whales, dolphins and sea lions. As a United Nation's World Heritage Site, the Bay of Loreto has been protected as a National Marine Park since June 2000, offering divers an unspoiled, world-class view of the goings-on under the sea.
"SCUBA diving is such a memorable experience and a way for guests to really soak in the unique underwater ecosystem that makes the Islands of Loreto special as a top-notch diving destination," said Owen Perry, owner and president, Villa Group. "We're proud to be able to offer an array of SCUBA experiences for both children and adults, right here at the resort."
The resort offers a variety of SCUBA beginner, intermediate, advanced and specialty dive programs for the entire family, from ages 8 to 88. This includes youth programs like the PADI Bubblemaker program, which is a simple and safe program designed to get children ages 8-9 years old familiar with SCUBA in shallow water at the resort's tortoise-shaped pools, all the way up to PADI Divemaster training for experienced divers who aspire to be dive professionals. With just two ocean dives into the magical underwater world of the Marine Park accompanied by PADI instructors, guests can become PADI-certified divers themselves.
The resort aims to work with guests to help reach their SCUBA goals, including those guests who may never have fathomed participating in diving experiences like this.
"What we do is open the door, hold someone's hand and walk them through to a magical world they've never experienced before," said Wade Wurm, SCUBA Operations Manager at Villa del Palmar at the Islands of Loreto, who noted that diving can be a fun family affair. "There's nothing more magical than witnessing a parent and their child experience this sport together."
With more than 100 miles of coastline, 300 sunny days a year and year-round surface temperatures averaging in the 80s, the 800-square-mile Loreto National Marine Park boasts dozens of small rocky islands, plunging walls, underwater pillars and finger reefs – a diver's paradise. Divers can explore Carmen Island, which is home to a 125-foot fishing boat wreck in about 30 feet of water; Dazante Island, which offers stair-stepped walls with deep canyons and crevices; Punta Coyote, where sea fans, gorgonians and colorful reef fish are plentiful; Los Candelleros, which features deep crevices and structural cover that serve as a haven for fish of all sizes; and Las Galeras, which offers boulders with large tabletop slabs of underwater rocks.
In addition, the resort offers daily exploration of new diving sites, as Villa del Palmar at the Islands of Loreto is located just outside the circle of where typical Baja diving takes place, adding an element of surprise and delight for adventure-seekers. Additional SCUBA programs, such as fitness-based offerings, will be added to the resort's already robust slate of underwater programs in the next couple of months, according to Wurm.
The Islands of Loreto, located on the east coast of the Baja California Peninsula on the Sea of Cortez, is known for its quiet beaches, scenic vistas, rich history and astounding natural habitats. The region caters to adventurous travelers looking to explore the many outdoor opportunities in addition to scuba diving, including snorkeling, hiking, fishing and mountain biking, as well as people looking for a getaway where they can enjoy the beauty and authentic culture of the region without the commotion of heavily-trafficked Mexican destinations. The destination is fast becoming an alternative for travelers looking for a slower pace with all the options and amenities they have come to expect from a vacation in Mexico.
For more information about Villa del Palmar, or to book, contact your preferred travel professional, visit http://www.villadelpalmarloreto.com/ or call 866.209.0726 from the U.S. or 855.440.5590 from Canada.
ABOUT VILLA DEL PALMAR AT THE ISLANDS OF LORETO
Baja's First Million Star Resort
Villa del Palmar at The Islands of Loreto is a self-contained destination resort on the Sea of Cortez, off the eastern coast of the Baja peninsula overlooking Danzante Island (one of five in the region). It features 181 new, spacious, beautifully appointed Deluxe Ocean View, one, two and three bedroom Suites with balcony or terrace, stunning ocean views, mountain views, outstanding restaurants, an attentive English-speaking staff, five swimming pools, a 39,000 square feet Spa, two tennis courts, beautiful beaches and a mild and warm climate year-round. The New York Times lists Loreto in its Top Ten Places to go in 2011. The travel article featuring The Islands of Loreto, Baja California South, Mexico ranked first among readers.
Guests can enjoy scuba and snorkeling tours in the protected Marine Park within the five prominent Loreto Islands, horseback riding, swimming, world-class fishing (catch a Dorado and bring it home to have a Villa del Palmar at The Islands of Loreto chef prepare it for you), paddle boarding, kayaking, whale watching and mountain biking. With complimentary shuttle service, guests can explore the historic town at the Islands of Loreto and visit the 1697 mission that made the town famous. The area is also known for its wildlife, including the 900 species of fish off the coast and in an area that has been declared a World Heritage Site. Hotel perks include a spa and fitness center, massages, salsa dance lessons and movie nights for children.
About PADI
PADI (Professional Association of Diving Instructors) is the world's largest recreational diver training organization, with more than 136,000 trained PADI Professionals dedicated to introducing new divers to the thrill of scuba diving and enhancing the skills of experienced divers through its 6,200 dive centers and resorts worldwide. PADI Members issue nearly 1,000,000 certifications worldwide each year, making underwater exploration and adventure accessible to the public while maintaining the highest industry standards for dive training, safety and customer service. For more information, visit http://www.PADI.com.
###