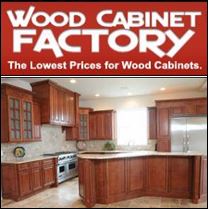 "For us, quality and affordability go hand in hand which us why our customers depend on us to give their kitchen space a makeover that exceeds their expectation," said a spokesperson
(PRWEB) April 30, 2013
Wood Cabinet Factory gives homeowners something to look forward to with its 3D Design service that offers hassle free kitchen remodeling for customers. The service uses standard affordable kitchen cabinets and creates uniquely designed kitchen interiors. The company also allows clients the satisfaction of seeing their design unfold right before their eyes.
The New Jersey based cabinet outlet specializes in providing all wood construction, durable hardware and exquisitely finished cabinets for homeowners who are looking for stylish kitchen cabinets but are on a budget. The company has also worked with a number of big names in media as well. Media giants like A & E, HGTV, DIY and even the Discovery Channel depend on the company's expertise in building and installing a full kitchen – quickly .
A spokesperson from the company had this to say when asked how its speedy service and affordable prices would benefit homeowners, "Mom and Dad don't have to break into the kids' college fund just to revamp their kitchen décor. For us, quality and affordability go hand in hand which us why our customers depend on us to give their kitchen space a makeover that exceeds their expectations."
The fact that it offers to install quality décor for less than what other services offer also owes to its immense success. For more information about the company and its 3D design service, visit http://www.woodcabinetfactory.com/.
About Wood Cabinet Factory
The Wood Cabinet Factory strives to provide homeowners the type of kitchens that they have always dreamed of. The company specializes in the installation of cabinet and interior designs that are a marvel of creativity. Besides offering unique 3D designs for the convenience of their clients they also provide All Wood cabinets in a variety of quality materials and styles like Bamboo, Cherry Maple, and Ice White Shaker to name a few.