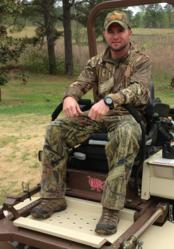 This new mower is definitely going to help me get my business going in the right direction and put me in a position to provide for my family for years to come. I cannot say 'thank you' enough to Grasshopper and Military Warriors.
Moundridge, KS (PRWEB) April 29, 2013
The Grasshopper Company, manufacturer of commercial zero-turn riding mowers, announced today its recent donation of a commercial zero-turn mower to Tom Trotter, a 28-year-old retired Marine from West Melbourne, Fla., in partnership with comedian Jeff Foxworthy and San Antonio-based Military Warriors Support Foundation (MWSF).
Grasshopper and MWSF representatives presented Trotter with his new Grasshopper mower during a turkey hunt at Foxworthy's Georgia farm in early April. The hunt and presentation will be the subject of the April 29 episode of Jeff Foxworthy "Inside & Out," an online web series sponsored in-part by Grasshopper. View the episode here.
"We are extremely pleased to partner with Military Warriors Support Foundation to donate this mower to Tom," says Ruthanne Stucky, executive vice president at Grasshopper. "Grasshopper recognizes the sacrifice made by those who serve in our armed forces, and this is our way of showing appreciation and gratitude to our nation's veterans."
Grasshopper selected Trotter from a pool of candidates provided by MWSF – veterans who had previously been selected for 100-percent mortgage-free homes through its Homes4WoundedHeroes program – due to his experiences while on active duty and his dream of owning and operating a lawn care business. In 2011, Trotter was wounded in combat while on patrol in Afghanistan, which left him paralyzed in his left arm for eight months and eventually resulted in his medical retirement from the Marine Corps in 2012.
"The combination of a mortgage-free home and a Grasshopper mower will help Tom get back on his feet and transition back to civilian life as quickly as possible," says Josh Kinser, senior director of field activities for MWSF.
Trotter says that receiving the new mower is one of the highlights of his life, and it will help jumpstart his professional lawn care business.
"This new mower is definitely going to help me get my business going in the right direction and put me in a position to provide for my family for years to come," says Trotter. "I cannot say 'thank you' enough to Grasshopper and Military Warriors for their support and what this means to me and my family."
Trotter will move into his new home on May 6, with his girlfriend, Rachel, and his two daughters. He is currently working on a business plan for his lawn care company, which will serve the Brevard County area in central Florida.
Grasshopper plans to continue its partnership with MWSF and donate a mower to a combat-wounded veteran on an annual basis. Veterans interested in receiving a mower in the future should contact Military Warriors Support Foundation – militarywarriors.org – for more information about qualifications and applications.
Watch Foxworthy, Grasshopper and Trotter discuss the donation with cast of "Fox & Friends" on April 26: http://youtu.be/gj9MzA_iFmA
About Grasshopper
The Grasshopper Company is a privately held corporation dedicated solely to the design and production of commercial and large-acreage mowing and grounds maintenance equipment. Grasshopper introduced the first commercially viable zero-turn radius mower in 1969 and is the originator of the dual, swing-out control lever concept. Other industry firsts include the first diesel-powered zero-turn radius mower in 1983 and the first electric-actuated fold-up mower deck in 2004. Based in Moundridge, Kan., the company distributes its products worldwide and is committed to lean and clean manufacturing practices reducing impact to the environment. For more information, visit grasshoppermower.com.
About Military Warriors Support Foundation
Military Warriors Support Foundation (MWSF) is a San Antonio-based 501(c)(3) organization established in 2007 to provide support for our nation's combat-wounded heroes as they transition out of the military and into civilian life. Through various programs, MWSF helps facilitate a smooth and successful transition for these combat-wounded heroes and assists with the everyday challenges they face. MWSF programs include Homes4WoundedHeroes, a 100-percent mortgage-free home donation program; CEOs4Heroes, a partnership with top-named companies committed to providing career-oriented jobs; and Skills4Life, which offers getaways, hunting and fishing trips, and family oriented outings. Other programs include Education4Heroes and Transportation4Heroes. For more information, visit militarywarriors.org.
About Jeff Foxworthy
Jeff Foxworthy is the largest-selling comedy-recording artist, a multiple Grammy Award nominee, and best-selling author of more than 26 books. He's hosted or starred in five TV series and was also a part of one of the most successful comedy tours of all time, The Blue Collar Comedy Tour and is one of the world's most respected comedians. Jeff loves to hunt and spend time in the outdoors every spare minute on his Georgia farm. Foxworthy Outdoors puts this obsession for hunting and fishing into motion through webisodes, licensed products, and a good excuse to climb into a tree stand. For more information, visit jefffoxworthy.com or foxworthyoutdoors.com.
# # #