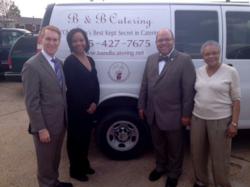 The Lord has blessed our hands to serve you.
Oklahoma City, OK (PRWEB) April 29, 2013
Representative Mike Shelton of Oklahoma City, District 97 took Senator James Lankford on a tour of small businesses in District 5. B&B Catering was excited to spend time with the senator and share with him the endeavors of running a small business in the economic environment of the Greater NE Oklahoma City area. Senator Lankford was especially interested in the advantages and disadvantages of being a small business in today's tough economic times.
https://iqconnect.lmhostediq.com/iqextranet/view_newsletter.aspx?id=2108239&c=OK05JL
B&B Catering began May 2002 in the garage of my mother, Ruby, who is now the "Queen B" of B&B Catering. I had the idea and mama had the money for the initial investment. At the outset, we could only do cold lunches and smoked meats style of caterings; but look at us now. We do anything form collard greens to caviar!
The name B&B Catering is motivated by the mother and daughter team: Ruby Booze-Hawkins and Demetra Bailey. This duo is better known as "The Queen B & Baby B"…we now say my daughter and granddaughter make up the "and."
Our business is also motivated by the loss of my son, DJ. Struggling with his passing was the inspiration for the name of our Corporation: Soulful Creations, Inc. It was after this time that we were afforded the opportunity to cater to our friends and families. The word of our delicious food and friendly service quickly spread which led to our first corporate jobs with IBM and the Sonic Corporations.
We believe that good food and good service are an integral part of the Catering industry. We believe in value added service. We don't try to be the cheapest nor do we try to be the most expensive; we strive to give you the best service at the best price.