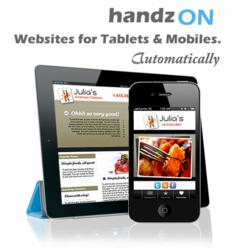 Create Mobile Websites for iPhone, Android and Tablets, with NO HTML
San Francisco, CA (PRWEB) April 30, 2013
The Handzon Website Builder News Blog releases a sneak peek showing the new software in action. The blog shows adaptive mobile web design pages being customized for Iphone, Android and Tablets using the same drag and drop tools available in the standard web site builder.
Although Handzon has always had responsive "liquid width" layouts in the last January release, the new adaptive layouts allow for a much greater customization of websites for mobile devices.
The concept behind building a template for the layout of multiple pages has always been a part of the application, however, Handzon automatically provides a baseline block of responsive code to a generated "page" template that allows it to scale with the device and also has a basic adaptive break-point for mobile devices smaller than tablets. However, as the original desktop website layout is typically designed at around 960 to 1000 pixels wide, and mobile devices can go as low as almost a third of that, the basic scaling of the width will more than likely not be sufficient. This is where the Handzon Mobile Adaptive Layout Editor comes in.
Paid HandzON websites have access to an extra level of support for mobile layouts that goes well beyond responsive, or "liquid width" templates. With the Handzon adaptive mobile template editor, users can actually see how their template layout is going to look in a number of devices (IPad, IPod, Android) and orientations (portrait, landscape). And by using the same interface that users are already familiar with, users can quickly and easily make adjustments to the mobile versions of their template by moving, resizing, or hiding individual elements within the header and footer of the template. Users can quickly change background images used in the header and footer for ones optimized for the device being targeted, and there's no learning curve at all because it's still the same interface used when editing the desktop version of the template.
The most powerful and exciting difference between a HandzON Mobile Website Software and others companies using 3rd-party mobile hosting is: A HandzON site is a single website that adapts to the device viewing it. That means that text changes or new pages built for your desktop website will already be visible on mobile devices, without time-consuming or complex "synching" on other services. It's an amazing approach that normally requires hiring a professional mobile web developer to achieve.
About Handzon
Handzon extended its reach worldwide into the mobile market earlier this year in January with the release of Handzon version 2.1 "Responsive mobile layouts". With the latest release of Handzon version 3.0 " Responsive & adaptive mobile layouts", website beginners building a mobile web site for the first time to web developers, web designers and professional coders all now have a platform that generates fully functional adaptive mobile layouts for all web sites built within the Handzon web site building application.
To find out more visit the website http://www.handzon.com and try the software for free.