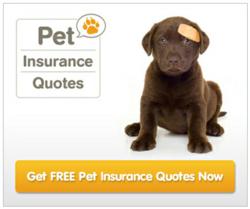 This new system will make getting quotes faster, easier and hopefully help pet owners save money as well.
Columbus, Ohio (PRWEB) April 30, 2013
PetInsuranceQuotes.com, the leading pet insurance shopping and comparison website, recently launched a new streamlined quoting system that will make shopping for pet insurance easier than ever before. This announcement comes just weeks after the company launched its popular Pet Insurance Wizard™ buying tool, which helps educate pet owners and guides them through the buying process.
"We continue to invest in technology in order to improve and enhance the user experience," explained Nick Braun, founder of PetInsuranceQuotes.com. "It's all about educating dog and cat owners about the value of pet health insurance and then helping them make the best decision for their pets."
The new quoting tool includes updated breed lists and a streamlined filtering system. The update also allows dog and cat owners to get multiple quotes for up to three pets at the same time. This new feature saves users time and can also save them money because several pet insurance companies offer multiple pet discounts.
"We've gathered a lot of feedback discovered that most of our users have more than one pet so we wanted to accommodate them," said Braun. "This new system will make getting quotes faster, easier and hopefully help pet owners save money as well."
Once a pet owner submits their information the system automatically generates quotes from multiple companies in just seconds. After submitting their information custom proposals are sent directly to the user's designated email inbox from a select group of companies.
According to Braun the new process takes less than 20 seconds and is compatible with any device including smartphones and tablets, which will allow pet owners to get quotes from anywhere at anytime.
"We live in a 24/7 world and convenience is critically important. Someday I hope to see a pet owner sitting on a plane getting a quote for their pet while waiting to take off. That's when we'll know pet insurance has reached the masses."
The company plans on adding new tools and features throughout the year with the goal of making the buying process as transparent and user-friendly as possible. Ultimately the company's mission is to help insure as many dogs and cats in the U.S. as possible. With less than 1% of American pets currently insured there is a lot of work to be done, but also a tremendous opportunity for growth.
About PetInsuranceQuotes.com
PetInsuranceQuotes.com provides objective, third party information, tools and research to help dog and cat owners shop and compare pet health insurance companies and plans.