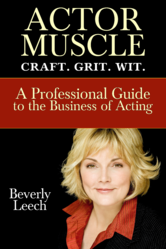 Read this book and take Bev Leech along for the ride. Your journey will never be lonely again!
Los Angeles, CA (PRWEB) April 30, 2013
At a time when college seniors from theatre schools such as NYU, USC and Carnegie Mellon are graduating, author and actress Beverly Leech wanted to ensure her book "Actor Muscle: A Professional Guide To The Business of Acting" was up to date with the latest rates and services and information for actors entering the competitive showbiz marketplace.
Since the initial November 2012 release, the educational community has begun to embrace the benefits of "Actor Muscle" and what it can offer their students. Leech's book continues to expand its availability for actors now available through Educational Theatre Association (EDTa) with 2013 updated versions now on Amazon and the digital version ready for release on Apple, Kindle, Barnes and Noble and across all platforms.
In a recent review by Joe Montague of The Riveting Riffs Blog the reviewer declares Actor Muscle is "A wise investment for anybody preparing to embark upon an acting career and in fact it could well serve as a tune-up for those who may still be struggling to establish themselves in the business."
Industry professionals have also been sending praise to author Leech for "Actor Muscle."
Mike Rispoli, one of the stars of the Starz Television drama "Magic City" stated " I wish there was a book like this when I was starting out! Bev Leech simplifies the hard truths of the business from the heart of her creative soul. She takes out the mystery and points out the way." said Rispoli.
ABOUT BEVERLY LEECH AND ACTOR MUSCLE
Beverly Leech is a 30 year veteran of stage, television and film, including Broadway and series regular commitments, and studied directly with the late, great Stella Adler. Concurrent to her career, she has taught the craft of acting and business skills since 2000 at The Stella Adler, AADA, and South Coast Repertory, and privately through Actor Muscle.
ABOUT VOLTAIRE MEDIA
Voltaire Media is a full service media company that specializes in Entertainment and Media Services in Los Angeles and nationwide. Our focus is on digital marketing strategy, brand identity development, corporate design, social media, strategic marketing concepts, SEO analysis, traffic acquisition, for clients in film, theatre, music, photography and television entertainment. We also procure and negotiate distribution and licensing in all platforms for completed films. We create strategic media campaigns, digital media planning, community relations and brand management, online reputation management, social network marketing, social media, content syndication, promotions, website consulting/content development and online marketing.