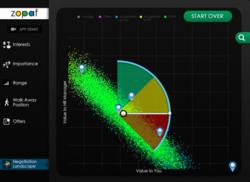 (PRWEB) April 30, 2013
A new iPad app called ZOPAF is designed to help users gain a deep understanding of a salary negotiation scenario. It allows the user to strategically counter and evaluate the quality of an offer in order to get the best compensation package possible. The level of insight the user gains through ZOPAF was traditionally only available to few, until now. It is now available to all, through iTunes, for free.
Most job seekers don't know what issues are most important during a salary negotiation. They don't know how to evaluate an offer or how to reach the zone of potential agreement (ZOPA) frontier with employers and end up accepting offers that feel right, perhaps not negotiating at all. HR managers that have gone through hundreds of salary negotiations routinely outmatch them.
The app guides the user through two phases: building a model in four steps and negotiating through offers and counter-offers.
In the model-building phase, the user starts by selecting five to seven issues to negotiate, such as base salary, vacation days, stock options, performance and sign-on bonuses, and employer contributions to health and dental insurance costs. The user then assigns a value from 1 to 100 for each issue to mark its importance. The user defines the range of values the general job market places on each issue, and then defines walk-away positions.
In the offer/counter-offer phase, the user selects an angle of attack and the size of the step to take toward the ZOPA frontier. Armed with information and a visual guide to possible offers, users can take control of the negotiating process and make sure they're getting the best possible compensation package.
ZOPAF was developed for Andinian Inc. by Zco Corporation, one of the largest mobile app developers in the world.