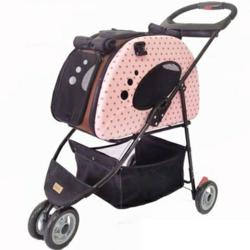 We see the needs and wants of our customers. We try to fulfill those needs as much as possible.
Houston, TX (PRWEB) April 30, 2013
Doggy In Wonderland recently announced the addition of several new products. These new products aim at assisting the pet owner in various ways with getting out and about with their dogs.
Among the new products added to Doggy In Wonderland's line-up are dog collars. Several of these new dog collars land in a lower price range so they are both fashionable as well as economical. Dog collars are essential to walking a dog so they are a needed item for taking dogs out and about.
In addition to dog collars, Doggy In Wonderland increased their dog lead line-up as well. Most of the dog leads added are matching companions to the above mentioned dog collars. Dog leads work hand in hand with dog collars allowing the pet owner control of their pet while walking them or attending pet friendly events or stores.
A new pet stroller was also added to the line-up. This stroller comes with a removable carrier for carrying your pet over the shoulder, and it can also act as a pet car seat.
"We have been attending many pet events lately, and we see the needs and wants of our customers. We try to fulfill those needs as much as possible. I am especially excited about our pet stroller category as I know from personal experience with my thirteen year old pug how much help these pet strollers can be when you want to let your pet join you on an outing but they become too tired or even over-heated to walk farther so you end up carrying a dog that is a little heavy for such a distance," one managing partner shared.
About DoggyInWonderland.com: DoggyinWonderland.com is a leading online pet boutique offering a wide array of pet accessories and other products for dogs and cats. This includes a full line-up of chic dog products such as stylish dog clothing, collars and leashes, pet furniture and dog beds, eco-friendly pet gear, healthy dog treats, dog toys, pet carriers, and a growing collection of cat products as well. Their goal is not only happy and healthy pets, but also 100% customer satisfaction. Call 866.280.1818 for more information, and see the full product range at DoggyinWonderland.com.