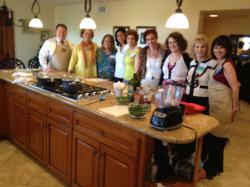 The second time was as delicious and fun as the first time! Thank you Jodi for a wonderful day for JNF and its supporters.
Hermine Mahmouzian
San Diego, CA (PRWEB) April 30, 2013
Lajollacooks4u, a San Diego hands-on culinary cooking company, was the selected venue for the second time to host a cooking class and luncheon as a recruitment drive for Jewish National Fund's (JNF) Women for Israel.
Guest speaker Diane Scar, National Campaign Director of JNF, addressed the group as participants enjoyed the fabulous meal they learned to prepare. Scar, based out of Baltimore, MD, shared stories of the incredible work JNF does in Israel and focused particularly on programs that help women and children in need.
The attendees collaborated in making a delicious lunch consisting of authentic homemade tortillas along with mango, brie and Manchego quesadillas as hors d'oeuvres. This was followed by a kale salad with currents, pine nuts and Parmesan cheese. The grand entrée consisted of quinoa with black beans, corn and cilantro and blackened salmon with a chimi churri sauce. A fresh plum tart with marzipan crumble and crème de cassis concluded the luncheon.
Hermine Mahmouzian, a JNF representative and attendee, said the event served as an excellent opportunity to get to know each other and learn more about what JNF is planning for 2013. "The venue, coupled with the cooking class and food won us all over," Mahmouzian said. "We left more informed on JNF's goals and with great cooking ideas," Mahmouzian added.
JEWISH NATIONAL FUND (JNF) began in 1901 as a dream and vision to reestablish a homeland in Israel for Jewish people everywhere. Jews the world over collected coins in iconic JNF Blue Boxes, purchasing land and planting trees until ultimately, their dream of a Jewish homeland was a reality. JNF gives all generations of Jews a unique voice in building a prosperous future for the land of Israel and its people. JNF is a registered 501(c)(3) organization and United Nations NGO, which continuously earns top ratings from charity overseers.For more information on JNF, call 888-JNF-0099 or visit http://www.jnf.org.
Lajollacooks4u was founded in 2008 and modeled after a European concept. Chef Jodi welcomes guests into her lovely Italian villa for a very special hands-on culinary adventure. Nestled atop Mt Soledad, La Jolla, CA, with stunning views of the Pacific Ocean, guests are shown how to prepare their culinary delights and then, under the direction of Chef Jodi, begin their own preparation. Lajollacooks4u specializes in team-building activities, Farmer Market & Foodie Tours, special occasions and culinary weekends. Lajollacooks4u has enjoyed record growth since its inception and has been ranked a top attraction in La Jolla on the world's largest travel review site, Trip Advisor. For more information, contact Jodi Abel at jodi(at)lajollacooks4u(dot)com or phone - 858-752-4980.
-30-