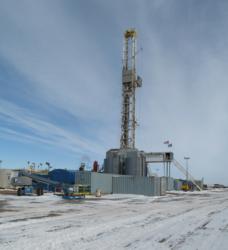 We expect many more companies to be utilizing rig mats in the Williston Basin as a safe, green alternative for 2013.
Killdeer, ND (PRWEB) April 30, 2013
Quality Mat Company is proud to be a platinum level sponsor for the 21st Williston Basin Petroleum Conference to be held at Evraz place in Regina, Saskatchewan. The conference begins Tuesday, April 30, and runs until Thursday, May 2, 2013. Presentations, speakers and displays from a variety of industries and organizations include the North Dakota Department of Mineral Resources, University of Regina, and Petro Bakken Energy Ltd.
3,000 people are predicted to attend the conference this year, due to the increase in activity in the Williston Basin according to Wbpc.ca. The last time the Williston Basin Petroleum Conference was hosted in Regina nearly 2,000 registrants attended. This year's theme is New Energy Horizons. Tradeshow booths will be home to equipment exhibitions and technical sessions, including rig mat manufacturer Quality Mat, which will be found in booth G10.
"We're very excited to be attending as a sponsor and exhibitor to this year's conference," says Joe Penland, Quality Mat manager. "We expect many more companies to be utilizing rig mats in the Williston Basin as a safe, green alternative for 2013."
Bakken Oil Business Journal reports that around 300 exhibition booths have been sold out since January. Other sponsors include the BNSF Railway, Whiting Oil, and Halliburton.
About the Williston Basin Petroleum Conference
Interested individuals can register for the conference online for $400 CAD or onsite for $500 CAD. To attend either the Core Workshop held on April 30th or the Rock Mechanics Workshop in May 3rd, you must be registered, and must buy a ticket for attendance to these limited workshops. Talks from previous years are archived on the site as well, for those curious.
A free session will be held open to the public on May 1 at 1:30 pm, providing general oil and gas information. Speakers include Saskatchaewan Ministry of the Economy's Melinda Yurkowski, Auburn Energy Inc.'s John Styles, and Bethany Kurz of the Energy & Environmental Research Center.
More information on the conference, as well as traveling information can be found at Wbpc.ca. The 2014 conference will be held in Bismark, North Dakota from May 20-22, 2014.
About Quality Mat Company
Quality Mat manufacturers rigs mats for drilling rigs across the globe. As the leading manufacturer of wood mats since 1970, Quality Mat provides top of the line mats for sale and rent. Find out more about ground protection mats, drilling rig mats and stabilization mats at Qmat.com.