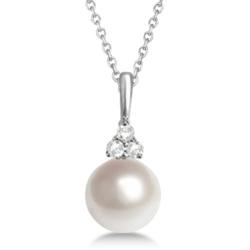 "Choosing the perfect Mother's Day gift is easy online. Search by jewelry type, metal, or price point."
New York, New York (PRWEB) April 30, 2013
According to Decide.com most brick & mortar retail stores lower the prices on their fine jewelry, brand name handbags, wallets, and shoes during Mother's Day to improve sales on the most
popular holiday choices. Thanks to the availability of online jewelry sources however, discounted retail pricing almost always exists if you know where to look.
Known as Mothering Day, the traditional practice of honoring mothers in ancient times was through an annual festival of celebrating the goddess Iris. A few centuries later additional mother goddesses would become revered as well. It wasn't until 1914 however that Mother's Day became a recognized holiday, thanks in large part to Anna Jarvis, the "mother" of Mother's Day. According to Wikipedia, in 1908 she chose to celebrate her mother with a memorial service and begin a campaign to make "Mother's Day" a United States recognized holiday. Unfortunately, Anna had become immediately displeased with this special day because it became too commercialized.
Gifts have become an important symbol of appreciation and celebration of monumental events and holidays, and the second Sunday in May is one such day. This year Mother's Day is May 12th, 2013. And, if this is news to you, you need to get on it…quick. Online retailers, especially jewelry and flower sites, are gearing up for the last minute rush with price appearing to be a major factor determining what consumer's will choose for the moms in their life.
A jewelry spokesman at Allurez said, "Price always plays a factor when consumers search for gifts, especially around Mother's Day. Retailers play on the consumer's need to buy great products at reduced prices. After all, no one likes to pay retail when they have a choice. Consumers in the know however, go straight to the internet for the best prices 365 days a year, especially when they are searching for fine jewelry."
Despite the fact that the internet often offers consumers an opportunity to buy great products at reduced prices, they need to choose sites that are easy to navigate, have the products they are interested in purchasing and include a search by price point.
"At Allurez we understand that sticking to a budget on Mother's Day, birthdays, anniversaries and any time a gift is being purchased is important. That's why we present shoppers with a clear representation of the product and its price point. At Allurez.com you can choose the perfect gift easily by price, metal, jewelry category, diamond and gemstone categories, holiday gifts and much more. By creating an easy to navigate site with advanced search options, our customers find exactly what they want with a click of the mouse."
Allurez is an established designer and retailer offering unique jewelry at a variety of price points to make everybody's shopping experience both pleasurable and successful. From sophisticated pearl jewelry to engagement rings you create yourself, our customer service representatives can guide you to the perfect gift for mother's day, religious holidays, anniversaries and more. Visit them online at allurez.com.