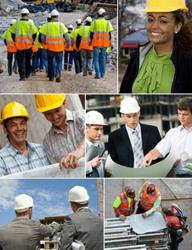 A lot of construction companies, especially smaller ones, don't have as many resources to spend on hiring and recruiting, so we're here to make the process easier and to help companies find the quality candidates they're looking for.
Miami, Florida (PRWEB) April 30, 2013
Suzanne Breistol, Co-Founder of ConstructionConnection.com, will be speaking at the Florida International University Business School on May 8 as part of SCORE Miami and the Pino Global Entrepreneurship Center's Entrepreneurship Empowerment Series. A strong advocate for supporting and educating fellow business owners, Breistol will speak on the best recruiting, hiring and retaining practices for companies, especially for those in the construction industry. Breistol and her business partner Kent Leighton also lead the way in educating construction business owners, which has become a cornerstone of their construction community and networking website ConstructionConnection.com.
Breistol and Leighton founded ConstructionConnection.com four years ago as an educational, networking and hiring resource for people in all positions in the construction industry. Today, the site boasts over 50,000 individual and company members made up of contractors, superintendents, architects, engineers, heavy equipment and machinery operators, and many more. All members enjoy free registration and free SEO-friendly profiles on the site in addition to access to free job posting and job-employee matching, a wealth of helpful resources and access to the Construction Connection Partners. The Partners consist of attorneys, consultants, software developers and more all of whom are experts in their field and specialize in working with the construction industry.
While the site has gained much of its attention from people looking for construction jobs or companies looking to hire skilled employees, the educational resources available to members are extremely valuable as well. In addition to speaking engagements, Breistol and Leighton work with companies through their Hiring-Simplified™ and Consulting-Simplified™ programs to aid companies through the best hiring and retention practices and to teach them to recognize that the right people are a company's number one asset.
"Both Kent [Leighton] and I spent many years working in construction. We're very familiar with the unique challenges the construction industry faces when it comes to hiring and retaining staff," explains Breistol. "A lot of construction companies, especially smaller ones, don't have as many resources to spend on hiring and recruiting, so we're here to make the process easier and to help companies find the quality candidates they're looking for."
Breistol and her team at Construction Connection are dedicated to helping businesses be the best they can be, and that starts with hiring. She worked for many years at a professional recruiting and staffing agency, so while her background lies in construction her expertise spans all industries. In her presentation at FIU, Breistol will be focusing more broadly on all industries and all aspects of the hiring process from finding the candidates to keeping them on staff once they have been hired. She will be addressing how to find the top tier candidates, tips for conducting insightful interviews and how to recognize core competencies. As a successful entrepreneur herself, Breistol will also be speaking on compliance issues, keeping costs down, handling turnover and more.
"Though the construction industry poses its own difficulties, some truths are universal," says Breistol. "I hope to help business owners understand how to make the most of hiring a new employee and how that can lead to greater benefits for the company overall."
For more information about Breistol's presentation at FIU or to register to attend the event, click here. To contact Breistol, Leighton or to find out more about the Construction Connection Hiring-Simplified™ and Consulting-Simplified™ programs, call 877-545-4473 at no cost today.
Construction Connection was created out of a need for a more effective and streamlined way for construction industry professionals to get matched with the right industry jobs and with the right industry opportunities. The partners of Construction Connection, both industry professionals themselves, listened to both company and individuals' dissatisfaction with the traditional job boards, the paid resume blasts, the overpriced resume services and overall lack of sympathy toward the individual candidate. They listened to the dissatisfaction from companies who post jobs only to get many irrelevant results or having to purchase high priced ads to showcase their company. Construction Connection is a patent-pending, one-of-a-kind profile creating / match-making system. The system delivers effective results. Construction Connection saves you time, money and aggravation by matching people to people, people to companies, companies to people, and company to company.